Come Party With Me: Italian Christmas Eve — Menu On Christmas Eve it's customary for Italians to consume seafood for dinner; they enjoy course after course of rich fish items. Although my family has Irish origins, I thought it would be fun to plan an Italian-style Christmas Eve — this year we'll be eating seven delicious seafood dishes. To get the party started we'll have raw oysters and cold, marinated anchovies waiting for the guests. Once a group has arrived, the hot appetizers will be set out. Spicy seared scallops are a delightful bite and slices of clam pizza are crisp and salty.
At the dining table a tuna and white bean salad will be served, followed by a silky shrimp bisque. The meal finishes with a velvety lobster pasta with cream sauce. Doesn't it sound to die for? Look at these recipes when you
.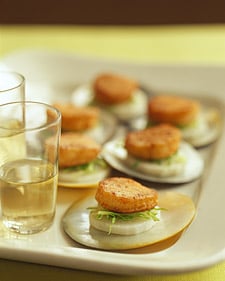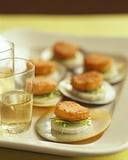 Ingredients
24 sea scallops (about 1 1/2 pounds), halved
Olive-oil cooking spray
For the seasoning:
6 tablespoons all-purpose flour
1 1/2 teaspoons cayenne pepper, or more to taste
3 teaspoons ground cumin
3 teaspoons ground coriander
1 1/2 teaspoons coarse salt
3/4 teaspoon ground cardamom
For the Garnish:
One 12-inch-long daikon radish, peeled and cut into 1/4-inch-thick rounds
5 romaine lettuce leaves, very thinly sliced
Directions
Combine flour, cayenne pepper, cumin, coriander, salt, and cardamom in a small bowl. Dip each halved scallop into the flour mixture to coat; set aside.
Place daikon rounds on serving platter. Top each with shredded lettuce; set aside.
Heat a medium nonstick skillet over medium heat. Coat with olive-oil spray, add coated scallops, and sear until light golden brown and cooked through, about 1 minute per side.
Transfer each seared scallop half to a daikon round. Serve warm or at room temperature.
Makes 48.
Information
Category

Seafood, Appetizers