 This year instead of hosting a formal Hanukkah dinner, invite friends over for a festive happy hour. Serve guests a selection of vegetable latkes with a buffet of traditional toppings like applesauce, sour cream, and smoked salmon.
Classic potato latkes are delicious alongside cauliflower curry latkes. Zucchini latkes with red pepper jelly and smoked trout add a touch of elegant sophistication to the menu. Spinach latkes with feta-yogurt sauce are original and unexpected. For these recipes,
.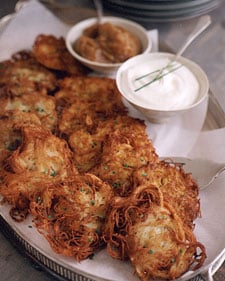 Ingredients
2 (about 1 1/4 pounds) all-purpose or Yukon gold potatoes, peeled
2 large eggs, room temperature
1 medium white onion, finely grated
8 scallion greens, finely slivered
Salt and freshly ground black pepper
Vegetable oil, for frying
Directions
Over a large bowl of cold water, grate potatoes into long strips, using the largest holes of a box grater. Transfer grated potatoes from water into another bowl. Pour off water from first bowl, reserving sediment. Add sediment to potatoes.
Add eggs, onion, and scallion greens. Season with salt and pepper. Mix well by hand.
Fill a large heavy-bottomed frying pan with 1/2 inch to 3/4 inch of oil until very hot, about 385 degrees.
Drop 1 heaping tablespoonful of potato mixture into the pan. Cook until golden brown, about 3 minutes; the pan should hold five or six latkes per batch. Turn latkes over, and cook on the other side until golden brown, about another 3 minutes.
Latkes can be transferred to a baking sheet and kept warm in a 200 degrees.oven for up to a half hour before serving.
Serves 4.
Information
Category

Vegetables, Appetizers