Come Party With Me: March Madness — Menu When I was a cheerleader in college, I preferred to dance at the fast-paced basketball games over the long, hot football games. There's something so exciting about basketball that makes it a fabulous sport to follow. Thanks to the office pool, this year, I've gotten very into March Madness, the whirlwind tournament that selects the nation's best college basketball team. I'm so into it that I've decided to invite the Sugar girls over for a viewing party. I'll make an assortment of delectable appetizers that highlight some of Spring's most sought-after ingredients. This menu is sophisticated, yet fun.
Mushroom quesadillas with feta and Monterey Jack are so filling, guests won't notice they're meatless. Pancetta-wrapped asparagus is a crowd-pleasing modern day classic. Six-vegetable Spring rolls with carrot-ginger dipping sauce are crunchy and delicious. Finally, chicken Parmesan meatballs with Caesar slaw takes two Italian-American favorites and translates them into finger foods. For these wonderful recipes,
.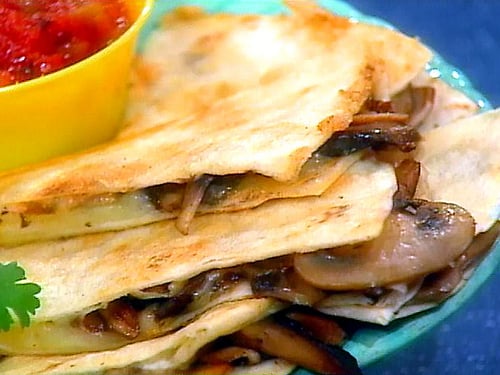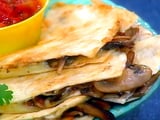 Ingredients
3 tablespoons butter, plus more as needed
10 ounces white mushrooms, sliced
1/2 to 1 teaspoon chili powder
1/2 teaspoon kosher salt
1/4 cup coarsely chopped fresh cilantro leaves
4 (10-inch) flour tortillas
8 ounces grated Monterey jack cheese, about 2 1/2 cups
2 ounces crumbled feta cheese, about 1/2 cup
Optional garnishes: Sour cream, cilantro sprigs, salsa
Directions
Preheat the oven to 350 degrees F. Line a baking sheet with aluminum foil.
Melt 2 tablespoons of the butter in a medium skillet over medium-high heat. Add the mushrooms, shake the pan to distribute them evenly in the pan, and then cook without moving until the mushrooms begin to brown, about 5 minutes.
Do not salt. Add the remaining tablespoon butter along the sides of the pan if the pan seems very dry. Toss the mushrooms, and continue to cook until nicely browned, about 2 to 3 minutes more.
Season mushrooms with the chili powder and salt and cook 1 minute more. Stir in the cilantro and set aside.
Toast the tortillas directly on a medium gas burner, turning occasionally until slightly blistered on each side. If you have an electric burner, do this in a dry cast iron skillet.
Place the tortillas on the prepared baking sheet. Spread the jack cheese on one half of each tortilla, top with some of the mushrooms, and then sprinkle with the feta. Fold the other half of the tortilla over the filling, to make a half moon shape. Lay another sheet of foil over the quesadillas.
Bake until the cheese melts, about 12 minutes. Serve whole or sliced into wedges, with optional garnishes.
Serves 4.
Information
Category

Vegetables, Appetizers