 Nothing says "hello, Summer" more than an icy, cold, fruity popsicle! Refreshing and delicious, these watermelon cucumber popsicles are the perfect finish to a classic Memorial Day barbecue menu. Although you will need to purchase popsicle molds and sticks, it's worth the investment because homemade popsicles are sublimely divine. This recipe would even be exceptional with a little vodka added! To take a look,
.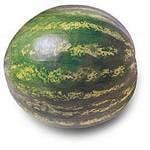 Ingredients
2 cups sugar
4 pounds seedless watermelon
1 pound cucumber
2 limes, juiced
Salt
Directions
Place the sugar and 2 cups of water in a saucepan and bring to a boil. Set aside to cool completely.
Cut the watermelon into chunks, discarding the rind.
Peel the cucumbers, and cut into pieces.
Purée each in a blender. You should produce 4 cups of watermelon purée and 2 cups of cucumber.
Combine the two purées with 2 cups sugar syrup, and blend until smooth. Strain the mixture through a sieve to remove any remaining lumps.
Stir in the lime juice and a pinch of salt.
Pour mixture into popsicle molds, and freeze for several hours until hard. The popsicles are best made early in the morning or a day before serving.
Serves 10 to 12.
Make ahead: The Popsicles can be unmolded and stored in an airtight container separated by layers of parchment.
Information
Category

Desserts, Frozen

Cuisine

North American