Come Party With Me: Memorial Day — Dessert Picture this: your guests are wildly content after the most delicious meat and potato barbecue dinner. Just when they thought the night couldn't get any better, you, the beautiful hostess with the mostess, appear with a plate full of ice cream sandwiches! Not just any ice cream sandwich, but one that marries the classic crowd-pleasing chocolate chip cookie with creamy vanilla ice cream. Coated in mini chocolate chips, these sandwiches vanish before your eyes.
If that sounds like the perfect end to your Memorial Day celebration, get the recipe for the sandwiches and
.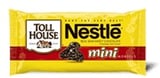 Ingredients
1 1/2 cups all-purpose flour (spooned and leveled)
1/2 teaspoon baking soda
1/2 teaspoon salt
1/2 cup (1 stick) unsalted butter, room temperature
1/2 cup packed light-brown sugar
1/4 cup granulated sugar
1/4 cup sour cream
1 large egg
1 teaspoon pure vanilla extract
1 1/2 cups mini chocolate chips
1 pint vanilla ice cream, softened
Directions
Preheat oven to 350 degrees, with rack in center.
In a medium bowl, whisk together flour, baking soda, and salt.
Using an electric mixer, beat butter and sugars until light and fluffy. Add sour cream, egg, and vanilla; beat until smooth.
With mixer on low, gradually add flour mixture; mix in 1 cup chocolate chips.
Using 1 rounded tablespoon per cookie, drop mounds of dough, about 1 1/2 inches apart, onto two baking sheets. (You'll have 25 to 30 cookies.) Bake until golden, 10 to 12 minutes; transfer to a rack to cool completely.
Scatter remaining chocolate chips on a plate. Place about 2 tablespoons ice cream between 2 cookies, bottoms facing in; press gently. Roll the sides of each sandwich in chips. (If ice cream is melting, place sandwiches in freezer until firm enough to roll in chips.) Transfer sandwiches onto baking sheets.
Freeze until firm, at least 2 hours; then wrap individually in plastic. Freeze up to 2 weeks.
Makes 12 sandwiches.
Information
Category

Desserts, Ice cream