Come Party With Me: Moroccan Dinner — Menu This week I'm planning a Moroccan-themed dinner. All of my friends will be attending a big birthday bash on Saturday night, so I thought it would be fun to get together early and have a delicious dinner. Instead of sending invitations, I've called everyone to personally invite them to dinner.
The menu is simple and flavor-packed. To get the party started, I'll serve mini Moroccan lamb burgers with lemon yogurt sauce and Moroccan carrot goat cheese sandwiches with green olive tapenade. The main course will consist of a fragrant Moroccan chicken potato salad with olives.
For these tantalizing recipes,
.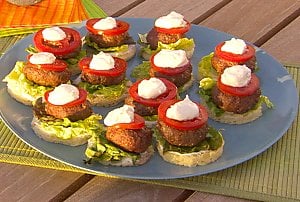 Mini Moroccan Lamb Burgers with Lemon Yogurt Sauce
From Dave Lieberman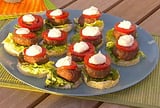 Ingredients
For the lemon yogurt sauce:
1 pint plain Greek-style yogurt, preferably full-fat
1/2 lemon, zested and juiced
Kosher salt
1 loaf brioche bread
For the mini burgers:
2 pounds ground lamb (preferably shoulder meat)
1/2 teaspoon ground cumin
1/2 teaspoon ground cinnamon
1/2 teaspoon ground coriander
1 teaspoon salt
About 20 grinds fresh black pepper
2 cloves garlic, pressed
1 small head red leaf lettuce, washed, dried, trimmed and torn into small pieces
4 ripe plum tomatoes, cut into 1/4-inch thick rounds
Directions
Make the sauce: in a medium mixing bowl, stir together the yogurt and lemon zest and juice. Season, to taste, with a couple pinches of salt. Sauce can be made ahead of time and refrigerated until ready to use. Bring to room temperature before using.
Cut the brioche into about 1/3 to 1/2-inch thick slices and then use a small glass to cut out as many circles as possible, about 3 inches in diameter, from each slice. Place the bread "buns" in an airtight container until ready to use so that they stay moist and soft.
Make the burgers: preheat the grill.
Combine all ingredients in a mixing bowl and work together until they are fully incorporated.
Using a small ice cream scoop, scoop the mixture into little balls about 1 to 1 1/2 inches big and place them on a parchment paper-lined baking pan. Using your hands, flatten burgers to about 1/2-inch thick and just a couple inches in diameter.
Once the grill is hot, place them on the grill and cook, about 2 to 3 minutes per side or until fully cooked through; cook time varies based on how hot your grill is.
Place the cooked mini burgers on top of the cut brioche and add a piece of lettuce and a tomato slice. Top with a dollop of the lemon yogurt sauce and serve.
Serves 6.
Information
Category

Appetizers, Finger Foods

Cuisine

Mediterranean/Middle Eastern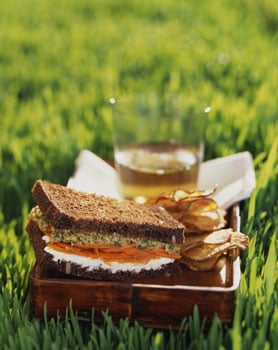 Moroccan Carrot Goat Cheese Sandwiches with Green Olive Tapenade
From Gourmet magazine
Ingredients
For carrots
2 tablespoons sugar
1 tablespoon fresh lemon juice
2 teaspoons sweet paprika
1 teaspoon ground cumin
1/2 teaspoon cinnamon
1/4 teaspoon cayenne
1 teaspoon salt
1/4 cup olive oil
1 1/2 lb medium carrots (8)
For tapenade
1 1/4 cups green olives (6 to 7 oz) such as Cerignola or picholine, pitted
3 tablespoons drained bottled capers, rinsed
1/4 cup chopped fresh flat-leaf parsley
1 flat anchovy fillet, chopped
1 teaspoon finely grated fresh lemon zest
1 1/2 tablespoons fresh lemon juice
1/2 teaspoon black pepper
1/4 cup olive oil
For sandwiches
12 slices good-quality pumpernickel sandwich bread
6 oz soft mild goat cheese (3/4 cup) at room temperature
Directions
Prepare carrots: whisk together sugar, lemon juice, spices, salt, and oil in a large bowl until sugar is dissolved.
Halve carrots crosswise on a long diagonal, then, starting from diagonal ends, cut into 1/16-inch-thick slices using slicer.
Cook carrots in a 4- to 5-quart pot of boiling salted water until crisp-tender, about 45 seconds.
Drain well in a colander and immediately toss with dressing. Cool to room temperature, stirring occasionally, then marinate, covered and chilled, at least 4 hours.
Make tapenade and assemble sandwiches: pulse olives with capers, parsley, anchovy, zest, lemon juice, and pepper in a food processor until coarsely chopped, then scrape down side of bowl with a rubber spatula.
Pulsing motor, add oil in a slow stream and continue to pulse until mixture is finely chopped (do not pulse to a paste).
Spread tapenade on 6 slices of bread and goat cheese on remaining 6 slices, then make sandwiches with carrots.
Makes 6 sandwiches.
Make ahead: carrots can marinate up to 2 days. Tapenade can be made 1 week ahead and chilled, covered.
Information
Category

Main Dishes, Sandwiches

Cuisine

Mediterranean/Middle Eastern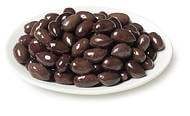 Moroccan Chicken and Potato Salad with Olives
From Food and Wine magazine
Ingredients
1 1/2 pounds boiling potatoes (about 5)
1 1/2 tablespoons lemon juice
1 teaspoon ground cumin
1 teaspoon paprika
1 teaspoon salt
Fresh-ground black pepper
1/4 teaspoon ground ginger
1/4 teaspoon dried oregano
7 tablespoons olive oil
1 pound boneless, skinless chicken breasts (about 3)
1/2 red onion, chopped fine
1/3 cup black olives, such as Kalamata, halved and pitted
1/2 cup chopped flat-leaf parsley
Directions
Put the potatoes in a medium saucepan with salted water to cover and bring to a boil. Reduce the heat and cook at a gentle boil until tender, about 25 minutes. Drain the potatoes.
When they are cool enough to handle, peel the potatoes and cut into 1/4-inch slices.
Meanwhile, in a small glass or stainless-steel bowl, whisk together the lemon juice, cumin, paprika, 3/4 teaspoon of the salt, 1/4 teaspoon pepper, the ginger, and the oregano. Whisk in 6 tablespoons of the oil.
Heat a grill pan or a heavy frying pan over moderate heat. For the grill pan, coat the chicken with the remaining 1 tablespoon oil; sprinkle with the remaining 1/4 teaspoon salt and 1/8 teaspoon pepper. Cook the chicken for 5 minutes.
Turn and cook until browned and just done, about 4 minutes longer.
Remove, and when cool enough to handle, cut the chicken into 1/4-inch slices. For the frying pan, heat the oil in the pan and then season, cook, and slice the chicken in the same way.
In a large bowl, combine the warm potatoes with half of the dressing. Add the chicken, onion, olives, parsley, and the remaining dressing and toss.
Serves 4.
Information
Category

Salads, Chicken

Cuisine

Mediterranean/Middle Eastern