Come Party With Me: Movie Club Meeting The foodie documentary King Corn will be shown at my movie club meeting, so the menu features a variety of vegetarian corn dishes. During the screening, let guests nibble on corn cakes and pizzettas with corn and zucchini.
After the movie is finished, invite everyone around the table for a light meal of cheddar corn chowder with an arugula fresh corn salad on the side. The soup can be kept warm during the movie, while the salad can be assembled in advance and dressed just before serving.
For these delicious recipes that highlight the sweet flavor of corn,
.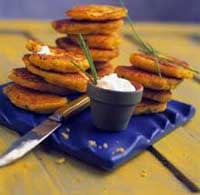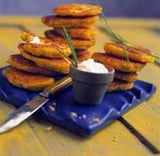 Ingredients
1 fresh ear of corn or 1/2 cup frozen whole kernel corn
2 tablespoons all-purpose flour
1-1/2 teaspoons baking powder
1 teaspoon sugar
1/2 teaspoon salt
1 cup boiling water
1 cup yellow cornmeal
1/4 cup milk
1 slightly beaten egg
1 tablespoon snipped fresh chives
3 tablespoons cooking oil
1 teaspoon snipped fresh chives or cilantro (optional)
1/3 cup dairy sour cream
Directions
Cut corn kernels from cob and measure 1/2 cup. In a small bowl combine flour, baking powder, sugar, and salt. Set aside.
In a medium bowl stir boiling water into cornmeal to make a stiff mush. Stir in milk until smooth; then stir in fresh or frozen corn, egg, and the 1 tablespoon chives. Add flour mixture and stir just until combined.
In a large skillet heat 2 tablespoons of the oil over medium heat. Drop batter by rounded tablespoons into hot oil. Cook for 3 to 4 minutes or until golden brown, turning once. Transfer to a serving platter; cover and keep warm.
Repeat with remaining batter, adding the remaining 1 tablespoon oil.
Meanwhile, if desired, stir the 1 teaspoon chives into the sour cream. Serve sour cream with the corn cakes.
Makes 6 servings.
Information
Category

Appetizers, Finger Foods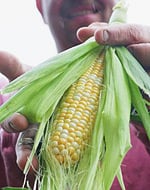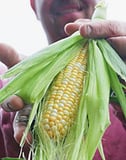 Ingredients
2 tablespoons olive oil
1 medium yellow onion, finely chopped (about 1 cup)
1 celery stalk, finely chopped (about 1/2 cup)
1/2 teaspoon ground coriander
1/4 teaspoon ground cumin
1/8 teaspoon cayenne pepper
1/2 cup dry white wine
3 Yukon gold potatoes, peeled and cut into 1/2-inch pieces (about 2 1/2 cups)
2 cups homemade or low-sodium store-bought vegetable stock
1 cup nonfat milk
3 cups fresh corn kernels (from about 6 ears of corn)
1 1/4 teaspoons coarse salt
Freshly ground pepper, to taste
2 ounces sharp white cheddar cheese, grated (about 3/4 cup)
Directions
Heat oil in a saucepan over medium heat. Add onion, and cook until softened, about 4 minutes. Add celery, and cook until tender, about 4 minutes. Add coriander, cumin, and cayenne.
Raise heat to medium-high, and add wine.
Cook until most of the liquid has evaporated, 2 to 3 minutes. Add potatoes, stock, and milk, and bring to a boil (skim any foam from surface). Reduce heat, and simmer until potatoes are tender, about 15 minutes.
Add corn, and cook until tender, 3 to 4 minutes. Remove from heat.
Transfer 2 cups soup to a blender. Let cool slightly, then puree. Return puree to pan, and stir. Reheat if needed. Season with salt and pepper. Pour into bowls, and top with cheese. Chowder can be refrigerated in an airtight container for up to 3 days.
Serves 6.
Information
Category

Soups/Stews, Chowder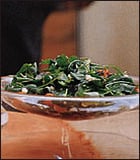 Ingredients
1/4 cup Champagne vinegar or white wine vinegar
1/4 cup minced shallots
Salt and freshly ground pepper
6 ears white corn with small kernels, shucked
1/2 cup extra-virgin olive oil
8 loosely packed cups arugula or peppercress (about 3/4 pound)
3 pints cherry tomatoes, halved
8 fresh organic nasturtiums (see Note), gently torn into bite-size pieces (optional)
Directions
In a large bowl, mix the Champagne vinegar with the minced shallots and season the mixture with salt and pepper. Let the shallots stand in the vinegar for 10 minutes.
Meanwhile, using a sharp, thin knife and working over another bowl, cut the kernels from the ears of white corn.
Whisk the olive oil into the Champagne vinegar and shallots until blended. Add the arugula and toss with the dressing.
Add the cherry tomatoes and the corn kernels and toss gently. Transfer the salad to a large platter, scatter the nasturtiums on top and serve.
Serves 8.
Information
Category

Greens , Salads