Come Party With Me: Movie Club Meeting — Dessert For my movie club meeting, I've planned a corn tasting menu. Each of the dishes feature corn as an ingredient. Since sweet corn is available, the dessert will be no different.
Made with pureed corn, this creme brulee recipe is silky and delicious. Guests will be awed by the creamy texture and subtle corn flavor.
If you have time, make a batch of caramel corn clusters. Fill plastic favor bags with the clusters and give to friends as they leave. To look at these corny dessert recipes,
.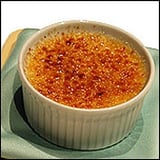 Ingredients
2 ears sweet corn
1 tablespoon butter
3 cups heavy cream
1 cup whole milk
8 egg yolks
1 cup granulated sugar
1/2 cup coarse sugar or raw sugar
Directions
Remove the husk from the ears of corn and cut the kernels off.
In a nonstick saute pan melt the butter and saute the corn kernels until they cook and have a few brown specks on them.
In a medium saucepan, heat the cream, milk, and half the sauteed corn kernels over medium heat, stirring occasionally, just until it comes to a boil.
Immediately turn off the heat and set aside to infuse at least 15 minutes.
Puree the mixture with a hand blender until smooth.
Preheat oven to 300 degrees F.
In a large bowl, whisk the egg yolks with the granulated sugar. Whisking constantly, gradually pour in the hot cream mixture. Strain the mixture into a pitcher.
Sprinkle the remaining corn kernels into 8 (6 to 8 ounce) ovenproof ramekins.
Pour the cream/corn mixture into the bowls and arrange in a hot water bath.
Bake at 300 degrees F, in the center of the oven until almost set but still a bit soft in the center, 30 to 40 minutes. The custard should "shimmy" a bit when you shake the pan; it will firm up more as it cools. Remove from the water bath and let cool 15 minutes. Tightly cover each bowl with plastic wrap, making sure the plastic does not touch the surface of the custard. Refrigerate at least 2 hours. Or refrigerate until ready to serve, up to 24 hours.
Preheat a broiler to very hot (or fire up your kitchen torch). Uncover the chilled custards. Pour as much sugar as will fit onto the top of one of the custards. Pour off the excess sugar onto the next custard. Repeat until all the custards are coated. Discard any remaining sugar.
Place the bowls on a baking sheet or in a roasting pan and broil until the sugar is melted and well browned, 1 to 2 minutes. Or brown them with a blowtorch. Let cool 1 minute before serving.
Serves 8.
Information
Category

Desserts, Puddings/Mousse

Cuisine

French
Caramel Corn Clusters
From Gourmet magazine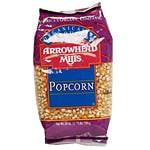 Ingredients
2 tablespoons vegetable oil
1/3 cup popcorn kernels
1 stick (1/2 cup) unsalted butter
11/2 cups packed light brown sugar
1/2 cup light corn syrup
3/4 teaspoon salt
1/2 teaspoon baking soda
1 cup salted peanuts (5 oz)
Special equipment: a candy thermometer
Directions
Heat oil with 3 kernels in a 3-quart heavy saucepan, covered, over moderate heat until 1 or 2 kernels pop.
Remove lid and quickly add remaining kernels, then cook, covered, shaking pan frequently, until kernels stop popping, about 3 minutes. Remove from heat and uncover.
Line bottom of a large shallow baking pan with foil. Lightly oil foil.
Melt butter in a 6-quart heavy pot over moderate heat. Add brown sugar and corn syrup and bring to a boil over moderate heat, stirring, then boil, without stirring, until syrup registers 300°F on thermometer, 8 to 10 minutes. Remove pot from heat.
Using a wooden spoon or a heatproof spatula, stir salt and baking soda into syrup, then quickly stir in peanuts and popcorn to coat. Immediately spread mixture in baking pan as thinly and evenly as possible.
Cool completely, then break into bite-size pieces.
Makes 12 cups.
Information
Category

Other, Desserts