Come Party With Me: My Birthday — Menu Although my birthday starts at 9 p.m. on a Saturday, I want to offer my friends snacks to nibble on throughout the night. Since the kitchen at 15 Romolo is still under construction, I'll make an assortment of easy appetizers that are best served at room temperature.
Marinated mushrooms and prosciutto-wrapped breadsticks are delicious starters. Chicken liver pate on crostini will suit the palates of my foodie friends and pair nicely with a goat cheese pesto torta. For these wonderful recipes,
.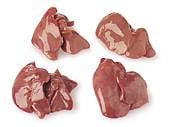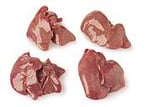 Ingredients
6 tablespoons unsalted butter, chilled
2 tablespoons extra-virgin olive oil
1 pound chicken livers, trimmed and patted dry
2 ounces thickly sliced bacon, cut into 1-by-1/4-inch pieces
1 medium onion, finely diced
1 Golden Delicious apple—peeled, cored and cut into 1/4-inch dice
1/4 cup brandy
Salt and freshly ground pepper
24 baguette slices, toasted
Small sage leaves, for garnish
Directions
In a large skillet, melt 2 tablespoons of the butter in the olive oil until foaming.
Add the chicken livers and cook over high heat, turning once or twice, until browned all over, about 3 minutes. Transfer the livers to a small bowl.
Add the bacon to the skillet and cook over moderate heat, stirring, until browned and crisp, about 5 minutes. Using a slotted spoon, transfer the bacon to a paper towel–lined plate to drain.
Add the onion to the skillet and cook over moderate heat, stirring frequently, until softened and lightly browned, about 10 minutes.
Add the apple, reduce the heat to low and cook, stirring, until very soft and just beginning to break down, about 10 minutes longer. Add the brandy to the skillet and carefully ignite with a long match; let the alcohol burn off.
Add 1/4 cup of the apple mixture to the bacon. Add the remaining apple mixture to a blender along with the chicken livers and blend until smooth.
With the machine on, add the remaining 4 tablespoons of butter and puree until creamy.
Pass the chicken liver mousse through a fine strainer into a bowl (omit this step for a chunkier mousse). Season with salt and pepper and refrigerate until firm, at least 30 minutes.
Spread the chicken liver mousse on the baguette toasts. Garnish with a little of the bacon-apple mixture and the sage leaves and serve at once.
Makes 24.
Make ahead: the mousse and apple-bacon garnish can be refrigerated separately for up to 2 days. Return to room temperature before serving.
Information
Category

Appetizers, Crostini