 The most important thing to remember when planning your first Thanksgiving is to stay calm. Really, Thanksgiving is just like any old dinner party, but with the menu already established. Don't try to do everything yourself and do get help from the store. Start by creating a massive grocery list of everything you will need. Next, figure out a cooking timeline and schedule. Read each of the following recipes carefully.
For appetizers, create a cheese platter of three cheeses — a soft, spreadable goat, a pungent cheddar, and a creamy blue — with dried fruit, nuts, and crackers. Prosciutto wrapped figs are a delicious accompaniment. Don't take on too many dishes for the main meal. Serve the classics: roast turkey, mashed potatoes, stuffing, and a green salad. Purchase a store bought cranberry sauce and gravy, and if desired, ask a trusted friend who enjoys cooking to make a few more sides.
To take a look at these simple yet delicious recipes,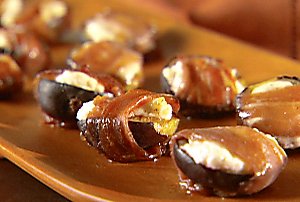 Prosciutto Wrapped Figs
From Sandra Lee
4 large whole figs (or 16 small mission figs), quartered
Goat cheese
1 (3-ounce) package prosciutto
3 tablespoons honey
1/4 teaspoon pumpkin pie spice
Preheat oven to 400 degrees F. Line a baking sheet with parchment paper; set aside.
Cut a small hole in the center of the flesh of each fig. Fill each hole with 1/4 teaspoon of goat cheese.
Take a prosciutto slice and tear in half. Use 1 half to diagonally wrap around the fig, starting from the top. Tuck underneath at the ends. Repeat until all figs are wrapped. (Secure with toothpicks if necessary.) Place wrapped figs on prepared baking sheet, evenly spaced.
In a small bowl, combine honey and pumpkin pie spice. Drizzle honey evenly over each fig.
Place in the oven on the top rack and roast for 8 to 10 minutes. Remove and serve immediately.
Serves 8.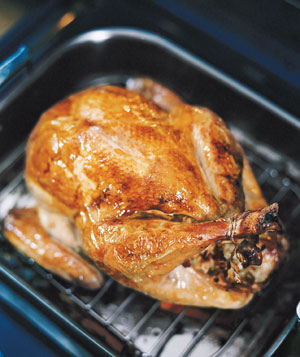 Basic Roast Turkey
From Real Simple magazine
1 12- to 14-pound turkey, giblets removed
3 carrots, roughly chopped
1 stalk celery, roughly chopped
2 medium yellow onions, cut into wedges
6 tablespoons tablespoons unsalted butter, melted, or olive oil
3/4 teaspoon kosher salt
1/4 teaspoon black pepper
3 navel oranges, cut into wedges (optional)
1 bunch fresh flat-leaf parsley or leaves from 1 bunch celery (optional)
Kitchen string (optional)
Heat oven to 425° F.
Rinse the turkey inside and out and pat it dry with paper towels. Place the wings underneath the body. If desired, tie the drumsticks together using kitchen string.
Place the carrots, celery, and onions in a metal roasting pan. Transfer the turkey to a wire rack and place it on top of the vegetables.
Drizzle the skin with the butter or oil and, using your fingers, spread it evenly. Season with the salt and pepper. Roast the turkey, uncovered, until browned, 30 to 45 minutes.
Add 1 cup cold water to pan. Cover the turkey loosely with foil. Reduce oven temperature to 350° F. Roast until a thermometer inserted in a thigh registers 180° F, about 2 hours total.
Let the turkey rest for at least 30 minutes before carving.
Garnish with the orange wedges and parsley or celery leaves (if using). If making gravy, reserve the juices in the roasting pan.
Serves 6-8, with leftovers
NUTRITION PER SERVING: CALORIES 544(46% from fat); FAT 28g (sat 8g); SUGAR 0g; PROTEIN 68g; CHOLESTEROL 232mg; SODIUM 292mg; FIBER 0g; CARBOHYDRATE 0g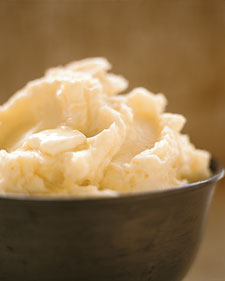 Mashed Potatoes
From Martha Stewart
2 pounds russet, Yukon gold, or long white potatoes
1 tablespoon salt, plus more to taste
1 cup milk, or cream
4 tablespoons unsalted butter
1/4 teaspoon freshly ground black pepper
1/4 teaspoon freshly grated nutmeg
Peel and cut potatoes into 1 1/2-inch-thick slices. Place in a medium saucepan. Cover with cold water; add 1 tablespoon salt. bring to a simmer. If using a potato ricer, fill another saucepan with water; place over low heat. Keep potatoes at a low simmer until a knife slips in and out easily. Drain potatoes in a colander. Place milk in a small saucepan over medium-high heat.
If using an electric mixer with paddle attachment, proceed to Step 4. If using a potato ricer, place a heat-proof bowl or top of a double boiler over a pan of simmering water. Press hot, drained potatoes through ricer into bowl.
Stir potatoes with a wooden spoon until smooth, about 1 minute. Using a whisk, incorporate butter. Drizzle in hot milk, whisking continuously. Add pepper, nutmeg, and salt to taste; whisk to combine. Serve immediately.
For the electric-mixer method, transfer hot, drained potatoes to bowl of an electric mixer fitted with the paddle attachment. Mix on medium-low speed, until most lumps have disappeared, about 1 minute.
Add butter; mix until blended. On low speed, add hot milk in a slow stream, then add pepper, nutmeg, and salt to taste. Mix to combine.
Serves 4-6.

Stuffing
From PartySugar's Dad
1-1/2 cups chicken broth
1/4 cup (1/2 stick) margarine, cut into pieces
1 pkg. (6 oz.) stove top stuffing mix
1 tablespoon butter
1 lb Italian sausage, casings removed
2 cloves garlic, minced
1 onion, diced
1 red pepper, diced
2 stalks celery
1 cup mushrooms
2 tablespoons fresh chopped parsley
1 teaspoon poultry seasoning
salt and pepper
Bring chicken broth and margarine to boil in medium saucepan. Add stuffing; stir just until moistened. Set aside
Heat the butter in a large saute pan over medium heat. Saute the Italian sausage breaking it into pieces while cooking until browned 10-15 minutes.
Add the garlic, onion, red pepper, celery, and mushrooms to the pan with the sausage. Cook, stirring until the vegetables are soft and tender another 10 minutes.
Add the seasoning and salt and pepper to taste.
Stir the vegetable sausage mixture in with the stuffing mixture. At this point you can cover and refrigerate until ready to bake. To serve, add to oven to bake with the turkey for the last 30 min. of the turkey baking time.
Serves 10-12.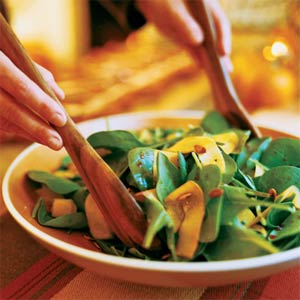 Spinach Pumpkin Salad
From Sunset magazine
1/2 cup pomegranate juice
1/4 cup red wine vinegar
1/4 cup toasted pumpkin-seed oil or extra-virgin olive oil
6 to 8 ounces pumpkin, such as Sugar Pie, or banana squash
6 quarts baby spinach leaves (1 lb.),rinsed and crisped
Salt and pepper
1/2 cup salted, roasted shelled pumpkin seeds
In a large serving bowl, whisk together pomegranate juice, vinegar, and oil.
Peel pumpkin. With a vegetable peeler, cut raw pumpkin into paper-thin 1- by 3-inch strips; you'll need about 2 1/2 cups. Add pumpkin shavings to pomegranate vinaigrette and mix gently.
Add spinach and mix to coat; add salt and pepper to taste. Sprinkle with pumpkin seeds.
Serves 12.
Nutritional Information: CALORIES 117(67% from fat); FAT 8.7g (sat 1.4g); PROTEIN 4.1g; CHOLESTEROL 0.0mg; SODIUM 126mg; FIBER 2.6g; CARBOHYDRATE 8.3g