 After a rich menu of caviar toasts and creamy potato-leek soup, serve guests a classic dessert like shortcakes. In this recipe the beloved cake stack gets a Winter makeover. Fresh strawberries are replaced with roasted pears.
An easy, homemade toffee sauce adds a buttery warmth to the dish. Pillows of lightly whipped cream finish off the decadent, not-too-sweet dessert. To look at the simple recipe — it would be a divine finish to any Winter dinner party — 
.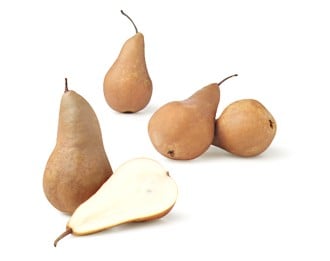 Roasted Pear Shortcakes with Warm Toffee Sauce
Ingredients
2 1/2 cups all-purpose flour
1 cup plus 3 tablespoons light brown sugar
2 teaspoons baking powder
1/2 teaspoon salt
2 1/2 sticks plus 3 tablespoons cold unsalted butter, cut into small pieces
1 large egg
2 cups heavy cream, 1 cup whipped
6 pears (about 2 1/2 pounds)-peeled, halved, cored and sliced about 1/4 inch thick
Directions
Preheat the oven to 400°. Line a baking sheet with parchment paper.
Using an electric mixer, beat the flour with 1/4 cup brown sugar, the baking powder and salt. Add 1 1/2 sticks butter and mix on low until crumbly.
In a small bowl, whisk together the egg and 1/2 cup unwhipped heavy cream. Add the liquid to the mixer and mix until just combined.
Pat the dough out until about 1 inch thick on the prepared baking sheet and cut into 6 equal pieces. Place the pieces 1 inch apart and bake until lightly golden and a toothpick inserted in the center comes out clean, 15 to 20 minutes. Let cool on a rack.
Meanwhile, place the pears with the 3 tablespoons brown sugar and the 3 tablespoons butter on a rimmed baking sheet and toss to coat. Cover the pears loosely with foil and roast until tender and caramelized, about 15 minutes.
In a small saucepan, combine the remaining 1 stick butter with the remaining 1/2 cup unwhipped heavy cream and the remaining 3/4 cup brown sugar and cook over medium-low heat, stirring occasionally, until the sugar dissolves. Increase the heat to medium-high and simmer the toffee sauce until thickened, about 5 minutes.
To serve, slice each shortcake in half and layer the bottom halves with the toffee sauce, roasted pears and whipped cream. Drizzle more toffee sauce over the whipped cream and cover with the shortcake tops.
Makes 6 shortcakes.
Information
Category

Desserts, Pastries