 Instead of hosting a crazy party on New Year's Eve, invite friends and family over for a decadent lunch on Jan. 1. Begin the soirée in the early afternoon (around 2:30) to allow late-night partygoers plenty of time to recover. Serve a menu that is rich, satisfying, and luxurious.
Start with caviar on brioche toasts with creme fraiche. Slice smoked salmon and cream cheese frittata into bite-size pieces and serve as appetizers. Have guests sit down to a creamy leek and potato soup paired with a simple salad of mixed greens dressed with champagne vinaigrette.
This menu would also make a delightful first day of the year dinner. To check out the recipes,
.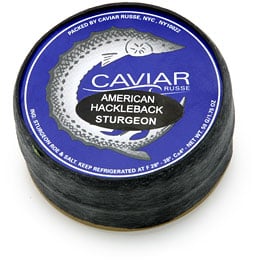 Toasted Brioche Rounds With Creme Fraiche and Caviar
From Martha Stewart
Ingredients
1 one-pound loaf brioche, cut into 1/2-inch thick slices
2 tablespoons unsalted butter
1 eight-ounce container creme fraiche or sour cream
2 ounces black caviar, or more
Directions
Using a 1 1/2-inch round cookie cutter, cut 36 rounds of brioche from slices.
Place 1 tablespoon butter in a 12-inch skillet. Melt over medium heat. Add half the rounds; cook until golden, turning once, 1 to 2 minutes per side. Repeat with remaining butter and rounds. Let cool on a wire rack or paper towel. Store rounds in an airtight container at room temperature for up to 2 days.
Place a dollop of creme fraiche on each round, and top with caviar.
Makes 36 appetizers.
Information
Category

Other, Appetizers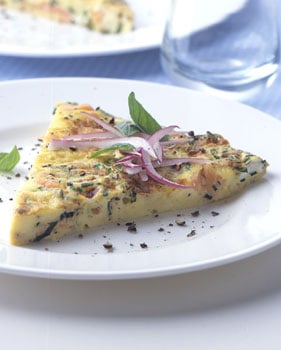 Smoked-Salmon and Cream Cheese Frittata
From Gourmet
Ingredients
8 large eggs
1/2 cup whole milk
1/4 cup chopped fresh chives
1/4 cup chopped fresh basil
1/2 teaspoon black pepper
1/8 teaspoon salt
2 teaspoons olive oil or vegetable oil
2 oz cold cream cheese, cut into 1/2-inch pieces
3 oz thinly sliced smoked salmon, chopped
thinly sliced red or sweet onion, optional for serving
Directions
Whisk together eggs, milk, chives, basil, pepper, and salt in a bowl.
Preheat broiler.
Heat oil in a 12-inch ovenproof nonstick skillet (if handle is plastic, wrap it in a double layer of foil) over moderate heat until hot but not smoking. Pour egg mixture into skillet and scatter cream cheese pieces on top, then cook, lifting up cooked egg around edges using a spatula to let raw egg flow underneath, until frittata is set on bottom and egg is almost set but still moist on top, 3 to 5 minutes.
Remove from heat. Sprinkle salmon all over frittata, then press on salmon lightly and shake skillet to allow salmon to settle into top.
Broil frittata about 6 inches from heat until set, slightly puffed, and golden in patches, 1 to 1 1/2 minutes.
Cool 5 minutes, then loosen edge with spatula and slide onto a large plate. Cut into wedges and serve warm or at room temperature.
Serves 4.
Information
Category

Main Dishes, Eggs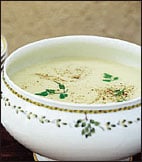 Ingredients
2 tablespoons unsalted butter
4 large leeks, white and tender green parts only, thinly sliced
1 baking potato (1/2 pound), peeled and cut into 2-inch chunks
5 cups chicken stock or canned low-sodium broth
1 cup heavy cream
Salt and freshly ground pepper
Chervil or parsley sprigs, for garnish
Directions
Melt the butter in a large saucepan. Add the leeks and cook over low heat, stirring occasionally, until softened, about 8 minutes.
Add the potato and chicken stock and bring to a boil. Cover partially and simmer over low heat until the potatoes are tender, about 15 minutes.
Add the cream and simmer for 10 minutes longer.
Working in batches, puree the soup in a blender, then return it to the pan. Season the soup with salt and pepper, garnish with chervil and serve.
Serves 6.
Make ahead: The soup can be refrigerated overnight.
Information
Category

Main Dishes, Soup