 Like a medal ceremony during the games, the dessert to your Olympic viewing should be rewarding and sweet. During the Summer nothing beats homemade ice cream, so wow guests with fresh scoops of cold, green tea ice cream.
This exotic flavor continues the Asian-influenced theme of the menu. Make the mixture the night before the party and freeze in an ice cream maker a half an hour before serving.
To learn the technique for green tea ice cream,
.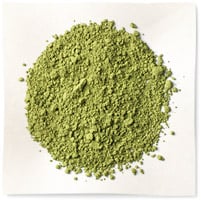 Ingredients
1/2 cup granulated sugar
1/2 cup water
1 teaspoon mirin
1 tablespoon green tea powder (recommended: Matcha)
1 cup whole milk
1 cup heavy cream
Directions
Combine the sugar and water in a small saucepan. Place the saucepan over low heat and bring to a simmer, then simmer, stirring, for about 5 minutes. Add the mirin to the saucepan, stir, and immediately remove from heat.
Dissolve the green tea powder in about 3 tablespoons of the sugar water from the saucepan, stirring until completely blended.
Pour this mixture back into the saucepan with the remaining sugar water. Add the milk and return to heat, until green tea powder is completely dissolved.
Remove from heat and add cream to the mixture, combining well. Refrigerate until thoroughly chilled.
Transfer the mixture to an electric ice cream maker and churn and chill for about 35-40 minutes, or according to manufacturer's instructions.
The texture of the ice cream should be smooth and thick. You can serve this immediately, or transfer the ice cream to a plastic freezer container and freeze for a firmer texture.
Information
Category

Desserts, Ice cream

Cuisine

Other Asian