 Over the past few years Oscars viewing parties have become as commonplace as the Super Bowl and St. Patrick's day celebrations. You may not be an award winning celebrity but that doesn't mean you can't host your own fabulous Oscars party this Sunday. The Oscars are the biggest awards ceremony because in the past they were the only televised awards show. This is the 79th year that the Academy will present its little golden statues to the year's stellar performances. The Oscars start at 5 and no meal is served during the show. The official after party, the Governor's Ball, is where the stars are invited to eat a meal created by Wolfgang Puck. I've done a little investigating and I've put together a light dinner menu for you to serve at your Oscars viewing with dishes that will actually be served at the Governor's Ball! This is the first installment of an extravagant three part menu. You've already seen the invitations now take a peek at the appetizers and
Puck will be making 7 scrumptious appetizers that will be passed on trays as the celebrities arrive. Scale down his efforts by offering your guests what he'll place on bar tables around the ballroom: marinated olives, grissini, and a
Bruschetta Trio
. Take some help from the grocery store (trust me later on this menu gets a little complex!) and purchase olives and grissini (a long think Italian breadstick). Puck will be marinating his olives with rosemary, chili, and orange so when you head to the supermarket look for olives with similar flavorings. Grissini can be found at Italian delis and near the specialty cheese section. The assorted bruschetta consist of a tapenade crostini, a tomato confit crostini, and a garlic aioli crostini. Check back later today for the rest of this sure-to-wow-your-guests meal.

Bruschetta Trio
From Wolfgang Puck
21 slices batard or good French bread, sliced 1 inch thick
1/2 cup olive oil
3 garlic cloves
1 cup goat cheese, softened
1 cup olive tapenade (recipe follows)
1 cup roasted peppers, store-bought
7 white anchovies
1/2 cup garlic aioli (recipe follows)
1-2 tomatoes confit
7 slices Parmesan cheese
1/4 cup balsamic vinegar
Lightly oil the bread on both sides and grill.
Rub the bread with the garlic cloves.
Spread soft goat cheese on 7 pieces of bread and top with olive tapenade.
Spread soft goat cheese on 7 pieces of bread top with roasted peppers and white anchovies.
Spread garlic aioli on 7 pieces of bread.
Place confit tomato on top and then Parmesan.
Drizzle olive oil and aged balsamic vinegar on each piece.
Serves 7.
Confit Tomato
Blanch tomatoes in boiling salted water for 15 seconds. Shock in ice water.
Peel and quarter tomatoes and remove the seeds with a knife. Place on a sheet pan; cover half way with olive oil.
Season each piece with salt and sugar. Roast in a 225 degree F. oven for 20 minutes.
Aioli
1 tablespoon chopped garlic
1/4 cup chopped basil
2 extra-large raw egg yolks (see Note)
Salt
Freshly ground white pepper
1 tablespoon Dijon mustard
1 1/2 to 2 cups safflower oil
1 tablespoon lemon juice
In a food processor or blender, combine the garlic, basil, egg yolks, salt, pepper, and Dijon mustard and process to combine.
With the machine running, add the oil in a slow, steady stream a thick, creamy emulsion forms. Pulse in the lemon juice and adjust the seasonings to taste.
Makes about 2 cups.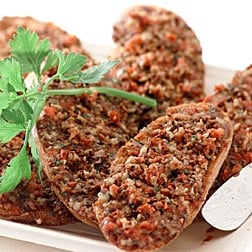 Black and Green Olive Tapenade
From Wolfgang Puck
1 cup Nicoise olives, pitted
1/4 cup sun-dried tomatoes, drained
1 cup small green French olives (Picholine), pitted
1 tablespoon capers
1 garlic clove
1 anchovy fillet
1/2 tablespoon chopped fresh basil leaves
1/2 tablespoon chopped fresh thyme leaves
1/2 tablespoon chopped fresh flat-leaf parsley leaves
1/4 tablespoon chopped fresh oregano leaves
1/4 cup extra virgin olive oil
Crostini, recipe follows
In a food processor, combine all the ingredients, except the olive oil and crostini.
Using the pulse button, process until coarsely chopped and well blended. Continue to process, slowly adding the olive oil.
Refrigerate in a covered container.
Spread on homemade crostini, recipe follows.

Croutons
1 French-bread baguette, sliced into rounds
2 cloves garlic, peeled
2 tbls olive oil
Preheat oven to 350°F.
Arrange bread slices on 2 baking sheets. Bake bread until crisp and golden brown, about 15 minutes.
Rub remaining 2 garlic cloves over 1 side of each crouton.
Lightly brush croutons with remaining 2 tablespoons olive oil.
Serve croutons warm or at room temperature with dips. (Can be prepared 3 days ahead. Cool croutons completely; store in airtight container at room temperature.)
Other bruschetta topping ideas include:
Shaved Parmesan, dry jack or Gruyère cheese
Fresh, creamy goat cheese, at room temperature
Roasted red bell peppers, home-roasted or bottled, cut into thin strips
Oil-packed sun-dried tomatoes, cut into thin strips
Capers, drained
Roma tomatoes, thinly sliced, or halved, seeded, and diced
Fresh basil leaves, cut into fine julienne strips or left whole
Crushed red pepper flakes
Balsamic vinegar
Thinly sliced prosciutto
Anchovy fillets packed in olive oil, drained
Fresh mozzarella cheese, sliced