 Although it's traditionally standard to serve macaroons and matzo brei at a Seder, why not shake up the customs and make a decadently modern dessert?
This chocolate torte is one hundred percent Passover friendly because it is made with nuts and matzo cake meal instead of flour or baking soda. The scrumptious fudge glaze is made using a popular vegan technique that combines nuts with water to create a milk like substitute.
To get the recipe for an extravagant finish to an elegant dinner, please
.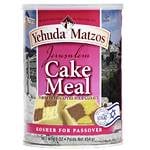 Ingredients
1 1/3 cups whole hazelnuts
3/4 cup margarine, melted, plus more for pan
3/4 cup cocoa powder, plus more for pan
1/3 cup matzo cake meal
6 large eggs, separated
1/2 cup packed light-brown sugar
Passover Fudge Glaze, recipe below
Pinch of salt
1/2 cup superfine sugar
Directions
Heat oven to 350 degrees. Line a baking pan with parchment, and spread hazelnuts on top. Bake until fragrant and toasted, about 10 minutes. Place nuts in a clean kitchen towel, and rub to remove loose skins.
Place 1/3 cup nuts in bowl of food processor, and pulse until finely ground; reserve.
Roughly chop remaining 1 cup nuts, and set aside.
Grease a 9-inch round cake pan with margarine; dust with cocoa powder.
Whisk together remaining 3/4 cup cocoa powder, ground hazelnuts, and matzo meal; set aside.
In a bowl of an electric mixer fitted with the whisk attachment, beat yolks and brown sugar on medium-high speed until mixture holds a ribbonlike trail for 3 seconds when you raise the whisk, about 45 seconds.
Fold in 1 cup nut purée from fudge glaze recipe.
Transfer to a large bowl; wash and dry mixer bowl and attachment.
Place egg whites and salt in mixer bowl; beat with whisk attachment on medium-high speed until soft peaks form, about 1 minute. With mixer running, slowly add superfine sugar; beat until stiff and glossy.
Fold egg whites and ground-hazelnut mixture into egg-yolk mixture. Fold in melted margarine. Transfer batter to prepared pan; smooth top with an offset spatula.
Transfer to oven; bake until a wooden skewer inserted in the middle of the cake comes out clean, 35 to 40 minutes. Transfer to a wire rack to cool, about 1 1/2 hours.
Invert pan, and remove cake. Using a serrated knife, slice cake into two layers.
Place a 9-inch cake round on a wire rack set on a baking sheet. Place bottom layer of cake on round; spread 1/2 cup fudge glaze on top. Place second layer on bottom layer. Pour remaining glaze over cake, using the offset spatula to cover sides. Refrigerate 30 minutes.
When ready to serve, press chopped hazelnuts onto sides.
Makes one 9-inch round cake.
Passover Fudge Glaze
1 1/2 cups whole blanched hazelnuts
2 cups sugar
2/3 cup cocoa powder
Seeds of 1 vanilla bean
8 tablespoons (1 stick) unsalted margarine
Pinch of salt
Place hazelnuts and 1 1/2 cups water in blender. Blend until fine, 30 seconds.
Set a fine sieve over a small bowl, and pour blended mixture through. Reserve purée left in sieve for Chocolate Torte.
In another bowl, whisk together 1 cup sugar and cocoa powder; set aside.
Place 1 cup nut liquid in saucepan with vanilla seeds, margarine, remaining 1 cup sugar, and salt. Bring to full boil.
Whisk in cocoa mixture; return to boil. Remove from heat; let cool 30 minutes. Store in airtight container; refrigerate.
Makes 1 3/4 cups.
Information
Category

Desserts, Cake

Cuisine

North American