Come Party With Me: Passover — Menu At a traditional Seder dinner, no flour products are consumed, so my menu consists of flavorful and delicious dishes that are Passover friendly. To start things off create a cheese display with matzo crackers and cured olives. Once guests have had time to mingle, ask everyone to join you at the table. Serve a parsley, radicchio, and napa cabbage salad with lemon vinaigrette as the first course. For the main dish offer guests heaping plates of melt in your mouth brisket and scrumptious vegetables.
Fried artichokes — with crisp outsides and tender centers — are a nice compliment to the juicy brisket. If you are interested in looking at the recipes, please
.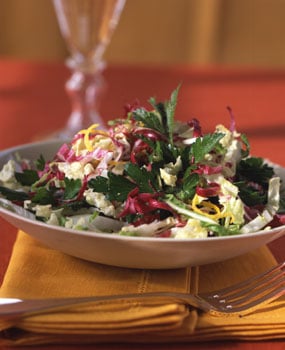 Parsley, Radicchio, and Napa Cabbage Salad with Lemon Vinaigrette
From Gourmet magazine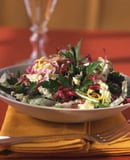 Ingredients
1 1/2 tablespoons fresh lemon juice
1 teaspoon finely grated fresh lemon zest
1/4 teaspoon sugar
1/4 teaspoon salt
1/4 teaspoon black pepper
1/3 cup plus 1 tablespoon olive oil
6 cups thinly sliced Napa cabbage (1/2 lb; from 1 head)
4 1/2 cups loosely packed fresh flat-leaf parsley leaves (3 large bunches)
2 cups thinly sliced radicchio (1/4 lb)
Directions
Whisk together lemon juice, zest, sugar, salt, and pepper until sugar is dissolved, then add oil in a slow stream, whisking until emulsified.
Just before serving, toss cabbage, parsley, and radicchio in a large bowl with just enough dressing to coat, then season with salt and pepper.
Serves 8.
Information
Category

Vegetables, Salads

Cuisine

Jewish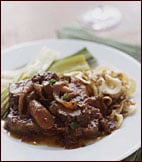 Ingredients
1/3 cup light brown sugar
2 tablespoons kosher salt
1 teaspoon garlic powder
1 teaspoon cayenne pepper
1 teaspoon sweet paprika
1 teaspoon coarsely ground black pepper
1/2 teaspoon cinnamon
1/2 teaspoon unsweetened cocoa powder
1/2 teaspoon ground coriander
1/2 teaspoon freshly ground white pepper
One 5-pound beef brisket, trimmed
3 tablespoons vegetable oil
4 large onions, sliced 1/2 inch thick
2 pounds carrots, cut diagonally 1/8 inch thick
2 cups Coca-Cola
One 28-ounce can crushed tomatoes
1/4 cup ketchup
Directions
In a bowl, mix the brown sugar, salt, garlic powder, cayenne, paprika, black pepper, cinnamon, cocoa, coriander and white pepper. Rub the mixture all over the brisket, set it in a baking dish and cover with foil. Refrigerate overnight.
Preheat the oven to 350°. In a large enameled cast-iron casserole, heat the oil. Add the brisket, fat side down, and brown well over moderately high heat, 6 minutes per side. Transfer to a plate.
Reduce the heat to moderate and add the onions. Stir well, cover and cook, stirring, until softened, about 15 minutes.
Add the carrots, cover and cook, stirring, until the carrots begin to soften, 5 minutes. Transfer to a bowl.
Add the Coca-Cola, tomatoes and ketchup to the pot and stir over moderate heat. Add the brisket and any juices and spread the onions and carrots around the meat. If necessary, add enough water to half-submerge the brisket in liquid. Cover tightly and braise in the oven for 2 1/2 hours.
Transfer the brisket to a cutting board, cover with foil and let stand for 30 minutes. Raise the oven temperature to 425°. Slice the meat across the grain 1/4 inch thick, return to the casserole and spoon the sauce over the meat.
Return the pot to the oven and cook uncovered for 1 hour, or until the meat is fork-tender. Check every 20 minutes; if necessary, add water so the meat is half submerged. Remove from the oven and let stand for 15 minutes.
Transfer the meat to a platter, spoon the onions, carrots and sauce over and serve.
Serves 8.
Information
Category

Main Dishes, Beef

Cuisine

Jewish

Fried Whole Artichokes
From Saveur magazine
Ingredients
6 artichokes
1 lemon, halved
Vegetable oil
Salt
Directions
For each of the artichokes, pull off the tough green outer leaves until you get to those that are mostly yellow. Cut stem down to about 1" and peel. Slice 1" off top of artichoke. Spread open leaves and scoop out fibrous white choke, using a spoon. Rub artichokes all over with a halved lemon to prevent discoloration.
Pour oil into a medium saucepan to a depth of 3" vegetable and heat over medium-high heat. When oil is very hot but not smoking, add 2 of the artichokes.
Cook, turning to brown evenly, about 8 minutes. Drain on paper towels and repeat process with remaining artichokes.
Place each fried artichoke, stem side up, on a work surface and flatten by pressing under a plate. Return each artichoke to hot oil and cook, turning to brown evenly, about 6 minutes. Drain on paper towels.
Sprinkle with salt and serve whole. The outer leaves will be crispy (they taste like vegetable chips); the heart, stem, and inner leaves will be tender.
Serves 6.
Information
Category

Vegetables, Side Dishes

Cuisine

Jewish