Come Party With Me: Passover — Menu After the ceremonious reading of the Haggadah, invite your loved ones to join you for a hearty Seder dinner that is both traditional and modern. Start things off with a reinterpretation of the classic gefilte fish: pan-fried matzo-crusted trout. Serve with a crisp green salad. Next move on to rich bowls of piping hot matzo ball soup. Instead of offering the expected brisket, select another tough cut of meat — beef short ribs — and slow-cook in Kosher red wine. A tzimmes, a time-honored Passover stew made from sweet potatoes and dried fruit, is delicious on the side.
For these festive recipes,
.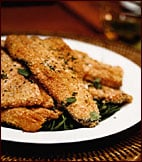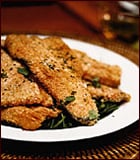 Ingredients
1 large egg
1/4 cup water
Kosher salt
1 cup matzo meal
1/2 teaspoon freshly ground pepper
1/4 teaspoon garlic powder
Eight 6-ounce rainbow trout fillets with skin, rinsed and patted dry
6 tablespoons vegetable oil
Oregano Oil, recipe below
Directions
In a bowl, beat the egg and water with a pinch of salt. In a shallow baking dish, toss the matzo meal with the pepper, garlic powder and 1 1/2 teaspoons of salt.
Dip the trout fillets in the beaten egg, then dredge in the matzo meal mixture; transfer to a baking sheet.
Heat 3 tablespoons of oil in each of 2 large nonstick skillets. Add 4 fillets, skin side up, to each skillet and cook over moderately high heat until browned at the edges, 5 minutes. Turn and cook until the skin is crisp and the fish is just opaque throughout, about 3 minutes.
Transfer to a platter and sprinkle with salt. Serve with the Oregano Oil.
Serves 8.
3 oregano sprigs, lightly crushed
2/3 cup extra-virgin olive oil
In a glass measuring cup, combine the oregano and olive oil. Cover and refrigerate for at least 1 and up to 2 days. The oil can be refrigerated for up to 1 week. Discard the sprigs before using.
Makes 2/3 cup.
Information
Category

Seafood, Appetizers