Come Party With Me: Pumpkin Patch Picnic — Menu Every October I look forward to picking out pumpkins. There's a great ranch near my parents house that has a pumpkin patch along with a picnic area and hay rides, so I'm grabbing a group of friends and hosting a picnic at the pumpkin patch! Since we'll be heading out this weekend, I invited everyone by phone.
The menu will be a hearty Fall-themed lunch. I'll start by setting up an assortment of cheeses and fruit. The elements to an autumn greens salad will be packed in separate containers. The greens, apples, and radishes in one, the cheddar frico in another, and the vinaigrette in third.
The salad can be assembled at the picnic table. Thermoses filled with a fragrant ginger, butternut squash soup are perfect for enjoying at the pumpkin patch. For these scrumptious recipes,
.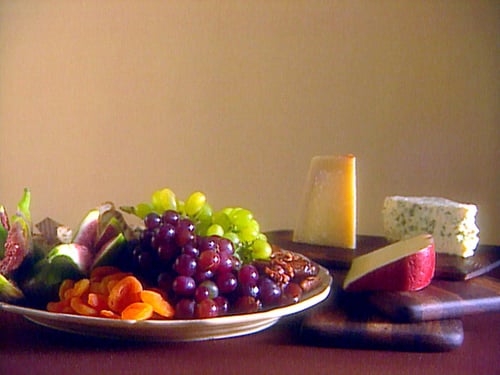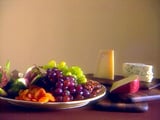 Ingredients
1 wedge (about 8 ounces) Parmigiano-Reggiano
1 wedge (about 8 ounces) Fontina or Taleggio
1 wedge (about 6 ounces) Gorgonzola
1 tablespoon honey
8 fresh figs, quartered
1 cluster seedless red grapes
1 cluster seedless green grapes
1 cup dates
1 cup dried apricots
1 cup whole shelled walnuts or pecans, toasted
1 loaf ciabatta, sliced
Directions
Arrange the cheeses together on 1 very large platter, or separately on small platters.
Drizzle the honey around the Gorgonzola cheese.
Arrange some of the fresh and dried fruits, nuts, and bread on the large cheese platter.
Arrange the rest of the fruit and nuts on another platter.
Serve, allowing guests to compose their own assortment of cheese, fruit, nuts, and bread on their plate.
Serves 12-18.
Information
Category

Other, Appetizers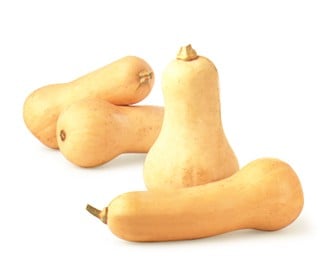 Gingered Butternut Squash Soup With Spicy Pecan Cream
From Food and Wine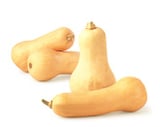 Ingredients
2 large butternut squash (5 1/2 pounds), halved lengthwise and seeded
1 tablespoon extra-virgin olive oil
3/4 cup pecans (2 ounces)
2 tablespoons unsalted butter
1 large onion, cut into 1/2-inch dice
1 small fennel bulb—halved, cored and cut into 1/2-inch dice
One 1 1/2-inch piece of fresh ginger, peeled and finely chopped
6 cups chicken stock
One 14-ounce can of unsweetened coconut milk
3/4 cup chilled heavy cream
1 teaspoon hazelnut oil
1/8 teaspoon cayenne pepper
Kosher salt
1 1/2 tablespoons fresh lemon juice
Directions
Preheat the oven to 350°F.
Rub the cut sides of the squash with the olive oil and set them, cut side down, on a large rimmed baking sheet. Bake the squash for about 1 hour, or until very tender.
Remove from the oven and let stand until cool enough to handle. Spoon the squash flesh into a large bowl; discard the skins.
In a pie plate, toast the pecans for about 8 minutes, or until lightly browned and fragrant; let the nuts cool.
In a large pot, melt the butter. Add the onion, fennel and ginger and cook over moderate heat until softened, about 8 minutes. Add the squash and the chicken stock, cover and simmer for 20 minutes, stirring occasionally.
Uncover the pot and continue cooking until the squash starts to fall apart, about 10 minutes. Remove from the heat and stir in the coconut milk.
Meanwhile, in a food processor, pulse the pecans until they are finely chopped.
In a medium bowl, beat the cream until soft peaks form. Fold in the chopped pecans, hazelnut oil and cayenne pepper and season with salt.
Working in batches, puree the squash soup in a blender until smooth.
Stir in the lemon juice and season with salt. Ladle the soup into bowls, top with a dollop of the pecan cream and serve.
Serves 12.
Make ahead: The soup can be refrigerated for up to 2 days. Reheat gently, adding a little chicken stock to thin the soup.
Information
Category

Soups/Stews, Cream

Cuisine

North American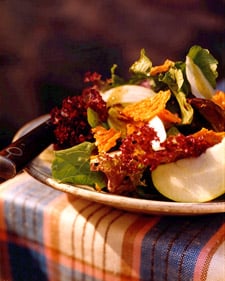 Autumn Greens With Apples, Radishes, and Cheddar Frico
From Martha Stewart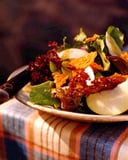 Ingredients
2 tablespoons sherry vinegar
2 teaspoons Dijon mustard
Coarse salt and freshly ground pepper
1/4 cup pumpkin-seed oil
6 tablespoons extra-virgin olive oil
2 Granny Smith apples
6 radishes, scrubbed and trimmed
9 cups mixed greens (about 3/4 pound), washed and dried
Cheddar Frico
10 ounces sharp white cheddar cheese, grated (about 5 cups)
1 tablespoon all-purpose flour
Directions
Make the cheddar frico: In a medium bowl, toss together cheese and flour.
Heat a large nonstick skillet over medium-low heat. Sprinkle about 1 1/2 tablespoons cheese mixture into skillet to form a 4-inch round.
Cook until cheese is starting to melt and become firm, 1 1/2 to 2 minutes. Using a small offset spatula, turn; continue cooking until it is firm and slightly golden, 15 to 30 seconds more.
Immediately drape frico over a rolling pin, and let cool slightly to set the shape. Repeat with remaining cheese mixture. If skillet gets too hot and frico begin to color too quickly, remove from heat for several minutes before proceeding.
Make the vinaigrette: In a small bowl, whisk together vinegar and mustard; season with salt and pepper. Whisking constantly, slowly add pumpkin-seed oil and then olive oil in a steady stream until thick and emulsified.
Slice apples and radishes on the thinnest setting of a mandoline or with a sharp knife. Place in a serving bowl; add mixed greens, and toss to combine.
Drizzle vinaigrette over salad mixture, and toss well to coat evenly. Serve immediately with cheddar frico.
Serves 10-12.
Information
Category

Greens , Salads

Cuisine

North American