Come Party With Me: Spring Picnic — Menu The past couple of days have been gloriously sunny here in San Francisco, inspiring me to plan a Spring picnic. The menu will consist of classic picnic foods best enjoyed under the bright blue sky. Homemade fried chicken will be placed in a big basket with delicious dipping sauces on the side. The recipe includes a spicy ancho honey, but if you prefer to serve fried chicken with blue cheese or ranch dip, offer those instead.
Coleslaw cups are a wonderful accompaniment to the fried chicken. Egg salad sandwiches on hearty wheat bread round out the homemade picnic spread. Supplement the menu with your favorite store bought picnic foods: potato chips, celery sticks, or hummus dip are excellent ideas.
To take a look at these recipes please,
.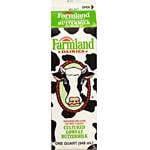 Ingredients
1 quart buttermilk, plus 2 cups
Kosher salt
2 teaspoons chili de arbol powder, or 2 tablespoons hot sauce
2 chickens (3 to 4 pounds each), cut up into 8 pieces each
3 cups all-purpose flour
1 tablespoon garlic powder
1 tablespoon onion powder
1 tablespoon sweet paprika
2 teaspoons cayenne pepper
Freshly ground black pepper
Peanut oil, for deep-frying
Ancho honey, recipe follows
Directions
Whisk together 1 quart of the buttermilk, 2 tablespoons salt, and the chili de arbol in a large bowl or large baking dish. Add the chicken, turn to coat, cover and refrigerate for at least 4 hours or overnight.
Place the remaining 2 cups of buttermilk in a bowl.
Stir together the flour, garlic and onion powders, paprika and cayenne in a large bowl and divide among 2 shallow platters and season generously with salt and pepper.
Drain the chicken in a colander and pat it dry. Dredge the pieces a few at a time in the flour mixture and pat off excess, then dip in the buttermilk and allow excess to drain off. Dredge in the second plate of flour and pat off the excess.
Put the chicken pieces on a baking rack set over a baking sheet while the oil heats.
Pour about 3 inches of oil into a deep cast iron skillet; the oil should not come more than halfway up the sides of the pot. Put the pot over medium-high heat and heat the oil to 375 degrees F on a deep-fry thermometer.
Working in batches, add the chicken pieces to the hot oil, 3 or 4 at a time and fry, turning the pieces occasionally, until evenly golden brown and cooked through, about 20 minutes.
Remove from the oil with a slotted spoon and transfer to a rack to drain; repeat to cook the remaining pieces. Serve hot, drizzled with the ancho honey.
Serves 4-6.
Ancho Honey:
1 cup honey
2 tablespoons ancho chili powder
Salt
Whisk all ingredients together in a bowl. Season with salt, to taste.
Information
Category

Poultry, Main Dishes

Cuisine

North American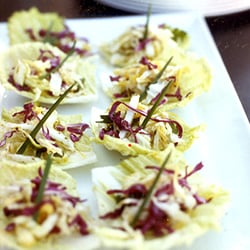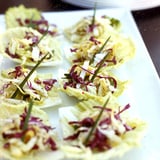 Ingredients
1 cup extra-virgin olive oil
1/2 cup red wine vinegar
1 tablespoon Dijon mustard
Salt and pepper
1 head napa cabbage, 20 leaves left whole and the rest shredded (about 5 cups)
1/2 head red cabbage, shredded (about 5 cups)
1/2 head green cabbage, shredded (about 4 cups)
1/2 cup chopped flat-leaf parsley
2 teaspoons celery seeds
Directions
In a jar with a lid, combine the olive oil, vinegar, mustard and salt and pepper to taste. Shake vigorously and set aside.
In a large bowl, combine the shredded Napa, red and green cabbages with the parsley and celery seeds. Shake the dressing again and pour over the cabbage; toss to coat.
Trim the ends of the reserved cabbage leaves and place a large spoonful of marinated slaw in the center of each leaf; refrigerate until ready to serve.
Serves 10.
Information
Category

Vegetables, Side Dishes

Cuisine

North American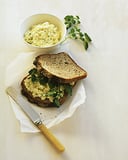 Ingredients
8 large eggs
3 tablespoons part-skim ricotta cheese
3 tablespoons plain nonfat Greek yogurt
2 teaspoons Dijon mustard
2 teaspoons finely chopped fresh chives
1/2 teaspoon coarse salt
Freshly ground pepper
2 cups watercress, thick stems removed
8 thin slices (1 ounce each) whole-grain bread
Directions
Prepare an ice-water bath; set aside.
Cover eggs with 1 inch of cold water in a large saucepan. Bring to a boil. Remove from heat; cover, and let stand 11 to 12 minutes. Transfer eggs to ice-water bath; let stand 2 minutes.
Peel eggs; cut in half, and remove yolks. Crumble 2 yolks, and set aside; discard remaining yolks.
Finely chop egg whites, and transfer to a medium bowl. Add crumbled egg yolks.
Whisk together ricotta, yogurt, mustard, chives, and salt in a small bowl; season with pepper.
Add to egg mixture, and gently stir to combine.
Arrange egg salad, then watercress, over 4 slices of bread, dividing evenly. Top with remaining slices of bread.
Serves 4.
Information
Category

Main Dishes, Sandwiches

Cuisine

North American