Come Party With Me: St. Patrick's Day — Dessert
Come Party With Me: St. Patrick's Day — Dessert Don't forget to provide guests with some sort of sweet at your St. Patrick's Day event. It's a party, so give the option of indulgence in the form of a dessert. These chocolate shots are great because they highlight the flavor of Bailey's Irish Cream, are gorgeous to look at, and are guaranteed to impress your guests. Even though they look complex, they are surprisingly easy to put together when you use packaged chocolate cups. The filling is a delicious mix of chocolate ganache, Baileys, and orange zest. To take a look at the recipe,
.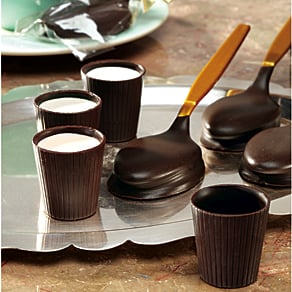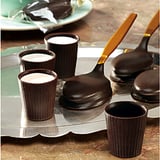 Ingredients
1 cup heavy whipping cream
6 ounces chopped semisweet chocolate
1/3 cup of Irish cream liqueur (recommended: Bailey's Irish Cream)
1 package edible chocolate cordial cups (18)
18 chocolate covered espresso beans
1 tablespoon fresh orange zest
Directions
Bring the heavy whipping cream just to a boil in a small saucepan, remove from the heat.
Whisk in the semisweet chocolate until smooth. Whisk in the liqueur.
Place in a medium size bowl and refrigerate for about 45 to 50 minutes until chilled but not firm.
Using an electric mixer, beat ganache until thick and semi firm. Stir in a pinch of fresh orange zest.
Fit a pastry bag with a size 6 round tip and fill with ganache.
Pipe ganache into chocolate cordial cups, fill almost to the top.
Place a chocolate espresso bean on top of the ganache and sprinkle with a pinch of orange zest.
Serve immediately or place in the refrigerator in a covered container until ready to serve.
Makes 18 shots.
Information
Category

Desserts, Chocolate

Cuisine

North American