Come Party With Me: St. Patrick's Day — Menu
Come Party With Me: St. Patrick's Day — Menu Even though Aimee's St. Patrick Day party starts after dinner, she's planning on providing guests with a small selection of Irish inspired snacks. It's always nice to have some food on hand, especially when heavy drinking is involved. This menu twists classic Irish flavors – cheddar cheese, dark beer, corned beef, and smoked salmon — into modern favorites.
An Irish cheddar and stout fondue is gooey and decadent. Smoked salmon puffs are easy to make in advance and divinely addicting. Reuben roll ups are the perfect drunk food because they taste like an Irish pizza pocket. For all of these wonderful recipes,
.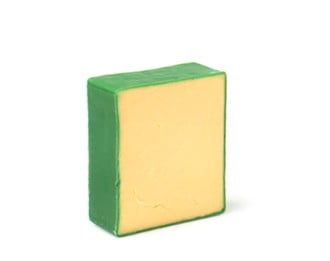 Irish Cheddar and Stout Fondue
From Bon Appetit magazine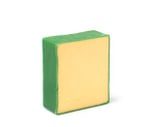 Ingredients
2 cups 1- to 1 1/2-inch-diameter red-skinned potatoes, halved
2 cups cauliflower florets
2 cups very small brussels sprouts
2 apples, cored, cut into wedges
1 pound Irish cheddar cheese, grated
2 1/2 tablespoons all purpose flour
3/4 cup (or more) Irish stout (such as Guinness)
6 tablespoons frozen apple juice concentrate, thawed
1 tablespoon Dijon mustard
Directions
Steam all vegetables until tender, about 15 minutes. Arrange vegetables and apples around edge of large platter.
Meanwhile, toss cheese with flour in large bowl.
Bring 3/4 cup stout, juice concentrate, and mustard to simmer in large saucepan over medium heat.
Gradually add cheese mixture, stirring constantly, until cheese is melted and smooth, thinning with more stout, if desired.
Season to taste with salt and pepper. Transfer fondue to bowl. Place in center of platter with vegetables.
Serves 6.
Information
Category

Other, Appetizers

Cuisine

English/Scottish/Irish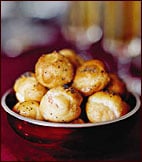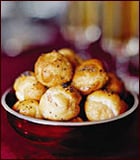 Ingredients
Puffs
1 cup water
1 stick (4 ounces) unsalted butter, cut into tablespoons
1 teaspoon kosher salt
1 cup all-purpose flour
4 large eggs
2 tablespoons poppy seeds, for sprinkling
Filling
1/2 pound sliced smoked salmon
1/4 pound cream cheese, softened
6 tablespoons sour cream
1 teaspoon Dijon mustard
1 small garlic clove
Tabasco sauce
Directions
Make the puffs: preheat the oven to 400° and position 2 racks in the upper and lower third. Lightly grease 2 large rimmed baking sheets.
In a saucepan, bring the water, butter and salt to a boil. Off the heat, add the flour and stir vigorously until combined.
Return to the heat and cook over moderate heat, stirring, for 1 minute.
Scrape the mixture into a bowl and, using an electric mixer, beat at medium speed for 1 minute. Add the eggs, 1 at a time, beating well after each addition, until thick, smooth and shiny.
Transfer the dough to a pastry bag fitted with a 1/2-inch plain tip. Pipe 1-inch mounds onto the prepared baking sheets, about 3/4 inch apart. Using lightly moistened fingertips, smooth the tops. Sprinkle with the poppy seeds and bake for 20 minutes, shifting the pans halfway through, until the puffs are risen and golden. Lower the oven to 250°.
With the tip of a knife, poke a hole into the side of each puff and return to the baking sheet. Bake for 10 minutes longer, with the oven door slightly ajar, to dry out the centers. Transfer to a rack and cool.
Meanwhile, make the filling: in a food processor, combine the smoked salmon with the cream cheese, sour cream, mustard and garlic and process until smooth; season with Tabasco.
Transfer the filling to a pastry bag fitted with a 1/4-inch tip. Pipe the filling into the holes in the sides of the puffs and transfer to a serving plate. Serve right away.
Serves 10-12.
Make ahead: the unfilled baked puffs can be frozen for up to 1 month; recrisp in a 325° oven. The filling can be refrigerated for up to 3 days.
Information
Category

Appetizers, Puff Pastry

Cuisine

English/Scottish/Irish


Ingredients
1 (13.8 ounce) package refrigerated pizza crust
1 cup sauerkraut, drained
1 tablespoon thousand island salad dressing
4 slices corned beef, halved
4 slices Swiss cheese, halved
Directions
Roll dough into a 12-in. x 9-in. rectangle. Cut into eight 3-in. x 4-1/2-in. rectangles.
Combine sauerkraut and salad dressing.
Place a slice of beef on each rectangle. Top with about 2 tablespoons of the sauerkraut mixture and a slice of cheese. Roll up.
Place with seam side down on a greased baking sheet. Bake at 425 degrees F for 12-14 minutes or until golden.
Serves 8.
Information
Category

Other, Appetizers

Cuisine

English/Scottish/Irish