 St. Patrick's Day is one of my favorite holidays because everyone goes to the local pub, drinks beer, and is in a great mood. It's also a fabulous time to meet guys, so this year I'm inviting all my single ladies over for appetizers before we head out to the bars. Since some of my girlfriends are vegetarian, I'll offer a meat-free menu of green snacks. To start there's green goddess dressing with green crudités like celery sticks, green beans, edamame, and sugar snap peas. A warm spinach artichoke dip is decadent, but healthy when served with pita wedges. Slices of pizza topped with fresh pesto and arugula are delicious and filling.
Broccoli soup is pretty and portable when placed in small tea cups or shot glasses. To look at these green themed recipes, perfect for any St. Patty's Day soirée,
.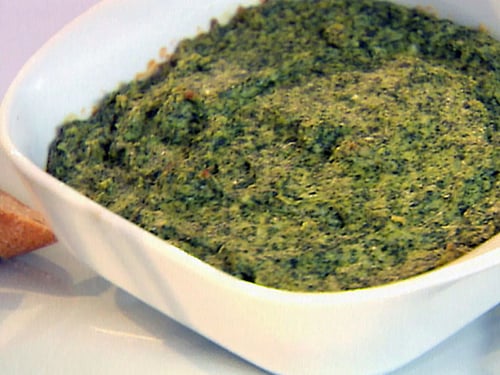 Ingredients
1 tablespoon canola oil
1 medium onion, finely chopped (about 1 1/2 cups)
3 cloves garlic
1 (9-ounce) package artichoke hearts, defrosted, rinsed and dried
1 (10-ounce) package frozen chopped spinach, defrosted, excess liquid squeezed out.
1/2 cup reduced fat sour cream
2 tablespoons mayonnaise
1/2 cup (4 ounces) Neufchatel cheese (reduced-fat cream cheese)
2 ounces (about 1/2 cup) shredded part-skim mozzarella cheese
1/2 teaspoon salt
1/4 teaspoon fresh ground pepper
Directions
Preheat oven to 375 degrees F.
Heat the oil in a saute pan over medium heat. Add onions and cook stirring occasionally, 4 to 5 minutes. Add garlic and cook an additional 3 to 4 minutes, or until onions are light golden but not browned. Remove from heat and cool.
In the bowl of a food processor combine artichoke hearts, spinach, sour cream, mayonnaise, Neufchatel, mozzarella and salt and pepper. Process until smooth. Add cooled onion-garlic mixture to the food processor and pulse a few times to combine.
Transfer mixture into an 8-inch glass square baking dish or 9-inch glass pie plate which has been lightly sprayed with cooking spray. Bake for 15 to 20 minutes or until heated through.
Serve with pita wedges or crudites.
Serves 12.
Information
Category

Dips, Appetizers