 Fresh Italian flavors inspire my Summer solstice dinner party menu. To maximize time spent with guests, all of the food can be made in advance or cooked outdoors on the grill. A buffet of salumi, flatbreads, olives, and store bought spreads will await my guests.
When sliced into triangles grilled mozzarella panini are delightful appetizers. Chicken cooked under a brick is crispy yet succulent. Classic panzanella and balsamic potato salad are delicious served on the side. If these recipes sound tasty, get them now when you
.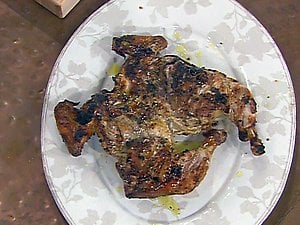 Ingredients
1 cup olive oil
1/2 cup lemon juice
2 tablespoons minced garlic
1 tablespoon lemon zest
1 tablespoon freshly chopped rosemary leaves
1 tablespoon freshly chopped thyme leaves
1 tablespoon freshly chopped parsley leaves
1 teaspoon kosher salt
1/2 teaspoon crushed red pepper flakes
1 whole chicken, 3 to 3 1/2 pounds
2 teaspoons Essence, recipe follows
1/2 teaspoon salt
1/2 teaspoon freshly ground white pepper
2 bricks, wrapped in aluminum foil
Directions
Preheat the oven to 500 degrees F and preheat grill to medium-low.
In a small mixing bowl, combine the olive oil, lemon juice, garlic, lemon zest, rosemary, thyme, parsley, kosher salt, and crushed red pepper. Mix to combine and set aside.
Place the chicken on a cutting board. With a boning knife and/or poultry scissors, cut along both sides of the backbone and remove. Place the chicken skin side down on a clean work surface and, using a paring or small boning knife, cut underneath and around the breast bone on both sides, cutting the cartilage away from the flesh so that you can work your fingers underneath the bone, and then carefully remove the breast bone. The chicken should lay flat like an open book. Tuck the wing tips behind the joint of the wing that meets the breast. Cut small tips in the skin that hangs beneath the thighs and tuck the tips of the drumstick bones inside.
Place in a 9 by 13-inch, nonreactive baking dish and add the marinade. Refrigerate for at least 2 hours and up to 6 hours, turning occasionally to evenly coat.
Preheat the bricks for 20 minutes.
Remove the chicken from the marinade and season on both sides with the Essence, salt, and pepper. Place the chicken, skin side down, on the grill. Place 2 bricks on top of the chicken to cover completely and flatten. Cook until the skin side has nice grill marks, about 20 minutes. Remove the bricks and turn the chicken so that it is skin side up. Cook on the second side for about 15 minutes longer, or until juices run clear and an instant-read thermometer inserted into the deep portion of the thigh registers 165 degrees F.
Remove the chicken from the grill, place on a cutting board and let rest for 5 minutes. Cut the chicken into quarters and serve immediately.
Serves 6-8.
Emeril's Essence Seasoning
2 1/2 tablespoons paprika
2 tablespoons salt
2 tablespoons garlic powder
1 tablespoon black pepper
1 tablespoon onion powder
1 tablespoon cayenne pepper
1 tablespoon dried oregano
1 tablespoon dried thyme
Combine all ingredients thoroughly.
Makes 2/3 cup.
Information
Category

Poultry, Main Dishes

Cuisine

Italian