Come Party With Me: Super Bowl — Menu The Super Bowl is this Sunday and to make sure you host the best blowout bash, I'll be sharing all of my ideas for an awesome party. To get things started let's talk about the menu. Before you select a bunch of dishes, think about the crowd you will be serving. Will it be mostly people who are invested in the game? A male heavy group? A mix of football fans and people who are simply there to socialize? Choose dishes that will accommodate this group. My crew falls into the last category with a variety of meat-lovers and vegetarians planning to attend.
For appetizers set up a buffet of store bought or homemade dips (guacamole, buffalo chicken dip, hummus, and artichoke crab dip are my favorites). As the main course, offer oozing grilled mozzarella sandwiches and cheesesteak sliders. No Super Bowl party is complete without a deep fried treat and guests will be delighted to snack on super crispy onion rings. To look at these recipes,
.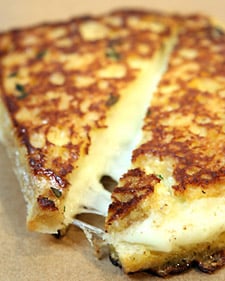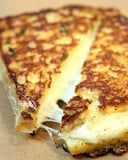 Ingredients
1 pound fresh buffalo mozzarella, cut into 4 equal pieces about 3-inches by 4-inches
8 1/2-inch thick firm white sandwich bread
2 large eggs
1/2 cup heavy cream
1 teaspoon fresh thyme leaves
1 teaspoon coarse salt
A grating of nutmeg
1/4 cup extra-virgin olive oil
2 tablespoons unsalted butter
Directions
Place the mozzarella on 4 slices of the bread. Cover with the remaining slices to form sandwiches. Trim the crusts off to make perfect 4-inch squares.
In a wide shallow bowl, whisk the eggs. Add the cream, thyme leaves, salt, and nutmeg. Whisk until well blended.
In a 10 to 12-inch nonstick saute pan, heat 2 tablespoons of olive oil over medium-high heat until smoking.
Add 1 tablespoon of the butter and cook until the sizzling subsides.
Dip 2 of the sandwiches into the egg mixture, turning to coat, place in the pan, and cook until golden brown on the first side, about 2 minutes. Flip over and brown on the other side.
Transfer the sandwiches to individual plates and repeat the process with the remaining 2 tablespoons olive oil, 1 tablespoon butter, and 2 sandwiches. Cut in half, and serve immediately.
Makes 4 sandwiches.
Information
Category

Main Dishes, Sandwiches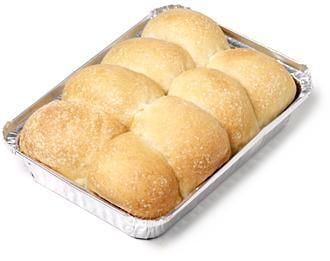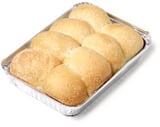 Ingredients
7 tablespoons extra-virgin olive oil
1 pound beef tenderloin, cut into thin strips
Salt and pepper
2 large bell peppers, cut into thin strips
2 onions, halved and thinly sliced
16 dinner rolls, split
6 ounces provolone cheese, shredded (about 1 1/2 cups)
Directions
Preheat the oven to 375°F.
In a large skillet, heat 3 tablespoons olive oil over medium-high heat until rippling. Season the beef with salt and pepper, increase the heat to high and cook in the skillet for 3 minutes; flip and cook for 2 minutes more. Transfer to a bowl.
In the same skillet, heat the remaining 1/4 cup olive oil over medium heat. Add the peppers and onions, season with salt and pepper and cook over medium high heat, stirring, until softened, about 8 minutes.
Place the roll bottoms on a large rimmed baking sheet and top each with the beef and vegetables; sprinkle with the cheese.
Bake until the cheese is melted, about 6 minutes. Transfer to a platter and cover with the roll tops.
Makes 16 sliders.
Information
Category

Main Dishes, Beef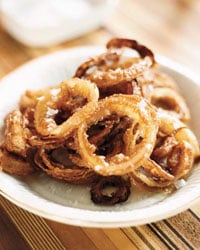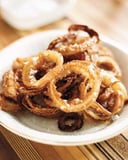 Ingredients
2 quarts vegetable oil, for frying
3 cups cake flour
1 cup cornstarch
2 teaspoons baking soda
2 teaspoons kosher salt, plus more for sprinkling
2 1/2 to 3 cups chilled club soda
2 large Spanish onions, cut into 1/2-inch slices and separated into rings
Directions
In a very large pot or deep fryer, heat the oil to 365°F.
In a bowl, whisk the cake flour with the cornstarch, baking soda and 2 teaspoons of kosher salt. Add 2 1/2 cups of the club soda and whisk until smooth; the batter should be thick but pourable. If necessary, add the remaining 1/2 cup of club soda, a few tablespoons at a time.
Working with 6 to 8 onion rings at a time, dip them in the batter until completely coated; as you pull the rings from the batter, scrape some of the excess against the side of the bowl.
Carefully add the onion rings to the hot oil and fry until golden and crisp, about 2 minutes. Drain the onion rings on paper towels.
Sprinkle the onion rings with salt and serve immediately or keep warm in an oven on low heat while you coat and fry the rest.
Serves 8.
Information
Category

Vegetables, Side Dishes