Come Party With Me: Tailgate — Menu Can you dip it? If you are coming to my football tailgate you better be able to, because the entire menu consists of dips! I'll have a smorgasbord of delectable dips and equally delicious dippers. With four different types of dip, there is something for everyone. Vegetarians will enjoy sweet potato chips with caramelized onion dip. Classical eaters will love the crudités with ranch dip. Carnivores will savor chili-lime fried chicken wings with honey lime dip. Cheese fiends will go ga-ga for fontina-gorgonzola fonduta.
To serve these football-friendly recipes at your tailgate,
.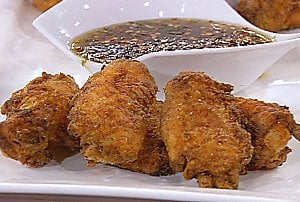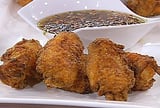 Ingredients
5 pounds chicken wings, separated at joints, and wing tips reserved for stock
1 3/4 cups lime juice
1 cup buttermilk
2 tablespoons minced garlic
1 tablespoon plus 1 teaspoon crushed red pepper flakes
1 tablespoon kosher salt
2 cups all-purpose flour
2 tablespoons Essence, recipe follows
Vegetable oil
1 cup honey
2 tablespoons lime zest
Directions
Place the chicken in a 1-gallon re-sealable plastic food storage bag.
In a medium bowl, combine 1 1/2 cups of the lime juice, the buttermilk, garlic, 1 tablespoon of the crushed red pepper and the kosher salt. Mix well to combine and pour over the chicken in the bag. Seal the bag and refrigerate overnight, or at least 12 hours, turning the bag occasionally to ensure even marinating.
Preheat the oven to 200 degrees F.
Set a large, 6-quart cast iron Dutch oven over medium high heat with 3-quarts of vegetable oil. Heat the oil to 350 degrees F using a frying thermometer to gauge the temperature of the oil. Remove the chicken from the refrigerator, drain through a colander, and set aside until ready to fry.
Place the flour and Essence in a 1-gallon re-sealable plastic food storage bag and place the chicken, 8 pieces at a time, in the flour and shake to coat.
Lay the coated chicken on a wire rack set over a sheet pan to rest for 20 minutes before frying. Continue with the remaining chicken pieces until all of the chicken has been coated.
Fry the chicken in batches of 12 pieces. The temperature of the oil should drop to around 300 degrees F. The chicken should fry at 300 degrees F until they are golden brown and begin to float, about 7 to 9 minutes. Place the fried chicken on a paper-lined sheet pan and place in the oven to keep warm as you fry the rest of the chicken. Be sure to allow the oil to return to 350 degrees F or so before adding more chicken to the hot oil.
Once all the chicken is fried, place the honey, lime zest, the remaining 1/4 cup of lime juice and the remaining 1 teaspoon of crushed red pepper flakes in a small bowl and mix to combine.
Serve the wings, 6 pieces per person, with some dipping sauce on the side.
Serves 6.
Emeril's ESSENCE Creole Seasoning:
2 1/2 tablespoons paprika
2 tablespoons salt
2 tablespoons garlic powder
1 tablespoon black pepper
1 tablespoon onion powder
1 tablespoon cayenne pepper
1 tablespoon dried oregano
1 tablespoon dried thyme
Combine all ingredients thoroughly.
Makes 2/3 cup.
Information
Category

Dips, Appetizers