 I've invited some friends over this Friday for a holiday cocktail party. Since everyone (including moi!) will be attending a jewelry sample sale before, the snacks must be prepared in advance. Crostini with lentil and green olive spread can be made the night before the party. My dad will bake the brie with mango chutney twenty minutes before we arrive, so it's warm and gooey the second we walk in the door. A smoked salmon platter with dill sour cream waits chilled in the fridge and mini beef slider patties cook quickly.
To look at these recipes, which would be awesome for any holiday event,
.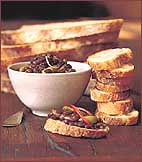 Ingredients
1/2 pound lentils, preferably from Abruzzi, rinsed and picked over
1 small onion
1 garlic clove
1 bay leaf
1/2 dried red chile
1/2 pound green olives, pitted and coarsely chopped
1 large celery rib, thinly sliced
1 large shallot, minced
1/4 cup extra-virgin olive oil, plus more for drizzling
1 1/2 tablespoons red wine vinegar
Salt and freshly ground pepper
24 small thin slices crusty country bread
1 small fresh red chile, very thinly sliced lengthwise
Directions
Preheat the oven to 400°. In a medium saucepan, generously cover the lentils with water. Add the onion, garlic, bay leaf and dried chile and bring to a simmer. Cover and cook over low heat until the lentils are tender, about 30 minutes. Drain the lentils, reserving 1/4 cup of the cooking liquid; discard the bay leaf and chile.
In a medium bowl, mash 1 cup of the lentils with a potato masher, then stir in the remaining lentils.
Add the olives, celery, shallot, 1/4 cup of olive oil and the vinegar. Season with salt and pepper and stir in the reserved 1/4 cup of cooking liquid.
Arrange the bread slices on a cookie sheet and bake for about 8 minutes or until thoroughly crisp. Drizzle the crostini with olive oil and generously spoon the lentil salad on top. Garnish the crostini with slivers of red chile and serve.
Serves 6-8.
Information
Category

Appetizers, Crostini