 After an indulgent, romantic dinner, surprise your sweetie with a chocolate-strawberry treat. These individual cakes are easy to assemble and divine to eat. The batter requires no electronic mixer making this an ideal dessert for those who don't own one. After baking, the cooled cakes are topped with a layer of strawberry jam before being coated in chocolate ganache. A strawberry and chocolate-curl garnish is festive and uncomplicated. The best thing about this recipe is that it makes 12 cakes, so you and your honey can enjoy them all weekend long!
To look at this mouth-watering recipe,
.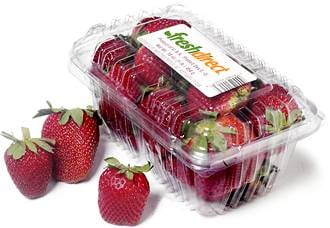 Chocolate-Covered Strawberry Cakes
Ingredients
1/2 cup butter
1 cup sugar
1/3 cup unsweetened cocoa powder
1 egg
1 teaspoon vanilla
1 cup all-purpose flour
1/2 teaspoon baking powder
1/4 teaspoon baking soda
1/8 teaspoon salt
3/4 cup milk
1/4 cup strawberry jam
Bittersweet Chocolate Ganache, recipe below
12 medium strawberries
3 ounces bittersweet and/or milk chocolate curls
Directions
Preheat oven to 350°F. Grease and flour or line with paper bake cups twelve 2-1/2-inch muffin cups; set aside.
In a large saucepan, melt butter over medium heat. Remove from heat. Let cool for 5 minutes.
Stir in sugar and cocoa powder until combined. Add egg and vanilla. Using a wooden spoon, beat lightly just until combined.
In a small bowl, stir together flour, baking powder, baking soda, and salt.
Alternately add flour mixture and milk to chocolate mixture, beating by hand after each addition. Spoon batter into prepared muffin cups, filling each two-thirds full.
Bake for 15 to 20 minutes or until a toothpick inserted near the centers comes out clean. Cool in muffin cups on a wire rack for 10 minutes.
Using a knife, loosen the edges; carefully remove cupcakes. Cool completely on a wire rack.
If cupcakes don't have paper liners, trim a thin slice from top of each cupcake so they will sit flat. Turn bottom side up. Place cupcakes 2 inches apart on wire rack set over waxed paper. (For cupcakes in liners, peel liners down but do not remove.) Spread 1 teaspoon of the strawberry jam over each cupcake.
Spoon ganache over cupcakes, making sure to coat all sides. Place a strawberry on top of each cake. Drizzle each strawberry lightly with ganache, letting the strawberry show through. Top cupcakes with chocolate curls.
Makes 12 cupcakes.
Make Ahead: prepare as directed through step 6. Place cooled cupcakes in an airtight container; cover. Store at room temperature for up to 3 days or freeze for up to 1 month. Thaw cupcakes, if frozen. Continue as directed in step 7.
Bittersweet Chocolate Ganache: In a medium saucepan, bring 1 cup whipping cream just to boiling over medium-high heat. Remove from heat. Add 10 ounces bittersweet chocolate, chopped (do not stir). Let stand for 5 minutes. Stir until smooth. Whisk in 3 tablespoons butter, 1 tablespoon at a time, whisking until ganache is smooth.
Information
Category

Desserts, Cupcakes