 Just because you don't eat meat, doesn't mean you shouldn't be able to enjoy Thanksgiving! There are so many delicious vegetables in season, that putting together a bountiful, hearty, meat-free meal is completely feasible. To help you out, I'm planning a vegetarian friendly Thanksgiving menu.
When guests arrive have a cheese plate complete with olives, nuts, crackers, and a homemade lentil spread ready and waiting. Get the dinner started with a soothing soup first course. A creamy chestnut celeriac soup is elegant and festive. For the main course serve pumpkin lasagna in individual sugar pumpkins. To look at these recipes — we'll address side dishes later —

Lentil Spread
From Martha Stewart
1 cup French green lentils
2 cups homemade or low-sodium store-bought vegetable stock
1/2 onion, cut into 3 wedges
4 sprigs fresh thyme, plus more for garnish
1 bay leaf
1 1/2 teaspoons coarse salt
1/4 teaspoon freshly ground pepper
1 tablespoon extra-virgin olive oil
8 ounces shallots (about 1 1/2 cups), thinly sliced
8 ounces cremini mushrooms, thinly sliced (about 3 1/2 cups)
1/3 cup dry sherry
1/2 cup hazelnuts, toasted and coarsely chopped
2 hard-boiled eggs, whites finely chopped, yolks reserved for another use
50 low-fat whole-wheat crackers
Bring lentils, stock, 1 3/4 cups water, onion, thyme, bay leaf, salt, and pepper to a boil in a medium saucepan. Reduce heat; simmer, adding water as needed (about 1/2 cup at a time) to prevent lentils from drying out, until they are tender, about 30 minutes. Discard onion, thyme, and bay leaf; set lentils aside.
Meanwhile, heat the oil in a large skillet over medium heat. Add shallots, and cook, stirring often, until golden, 10 to 12 minutes.
Add mushrooms; cook until mushrooms have softened completely and shallots are deep-golden brown, 6 to 8 minutes.
Add sherry, stirring to scrape up browned bits. Remove from heat.
Reserve 2 heaping tablespoons of shallot mixture for garnish; refrigerate, covered, until ready to use.
Process remaining shallot mixture, the lentils, and nuts in a food processor until coarsely combined.
Transfer to a large bowl, and stir in the egg whites.
Line a 5-by-10-inch loaf pan with plastic wrap, allowing 3 inches to hang over each long side. Spoon lentil mixture into pan, and fold plastic over top. Top with another loaf pan filled with heavy cans. Refrigerate 4 hours (or overnight).
To serve, unwrap top, and invert onto a platter. Bring to room temperature. Garnish with reserved shallot mixture and thyme sprigs. Serve with crackers.
Serves 10.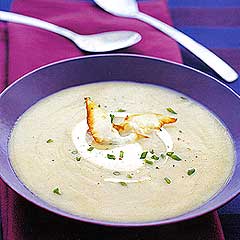 Chestnut & Celeriac Soup
From Tesco
1 leek, chopped
1 carrot, chopped
1 tbsp vegetable oil
6 cups vegetable stock
1 celeriac, chopped
½ tsp dried thyme
16 ounces chestnut purée
freshly ground black pepper
créme fraiche and chives to serve
celeriac chips to serve (optional)
In a large saucepan, fry the leek and carrot in the oil over a medium heat until the leek is softened.
Add the rest of the ingredients to the pan and bring to a simmer.
Cover and cook for about 25 minutes until the vegetables are tender.
Allow the soup to cool, then purèe in batches in a food processor or blender.
Return the soup to the pan and reheat.
Serve the soup in bowls with a dollop of crème fraîche and chives if wished.
Serves 6.

Pumpkin Lasagna
From Vegetarian Times
10 sugar pumpkins, about 5 to 6 inches round, or small acorn squash
1/4 cup unsalted butter
1 Spanish onion, sliced
1/4 cup light brown sugar
2 to 3 cups vegetable broth
2 cups toasted almonds, finely chopped
1 tsp. kosher salt
1/2 tsp. freshly ground black pepper
25 5x5-inch sheets fresh lasagna
1 cup amaretti cookies, ground
1 cup grated Parmesan cheese
1/2 cup mascarpone
2 cups apple cider
2 Tbs. maple syrup
2 Tbs. unsalted butter
1/2 tsp. kosher salt
1/8 tsp. freshly ground black pepper
Preheat oven to 350F.
Cut tops off pumpkins, and set aside. Scrape out seeds, and discard them. Place pumpkins on a baking sheet, and roast them until tender, about 30 minutes. Remove them from oven, scrape out all flesh from 4 pumpkins and transfer flesh to a bowl.
Discard shells. Remove most of flesh from remaining 6 pumpkins, and transfer to a bowl, reserving shells for further baking.
Heat a large skillet over medium-high heat, and when it is hot, add 1 tablespoon butter. Add onion, and sauté it for 2 minutes. Add brown sugar, and cook for 2 minutes more, stirring occasionally.
Add pumpkin flesh, and stir it well. Add broth, and bring mixture to a boil. Reduce heat to medium, and cook until pumpkin starts to fall apart, for about 10 to 12 minutes.
Add 1/2 cup almonds, transfer to a blender or food processor and purée.
Add remaining 3 tablespoons of butter, salt and pepper. Return mixture to skillet, and reheat it.
Bring a large pot of water to a boil over high heat, add lasagna sheets and cook them until al dente, for 3 to 4 minutes.
Remove lasagna from heat, and drain.
Place sheets in skillet with pumpkin sauce, and toss.
Using tongs, remove sheets, and place them in bottom of shells.
Spoon sauce over lasagna, and sprinkle one-quarter of remaining almonds and one-quarter of amaretti, Parmesan cheese and mascarpone over top. Repeat until pumpkins are filled, or all ingredients are used up, with a final layer of almonds, amaretti, Parmesan cheese and mascarpone.
Bake for 15 to 20 minutes.
Meanwhile, place cider and maple syrup in saucepan, and bring to a boil over high heat. Reduce heat to medium, and cook until mixture has reduced to one-third and has a sticky, syrupy consistency, about 15 minutes. Add butter, salt and pepper, and set aside.
Drizzle cider-maple syrup sauce over individual pumpkins, and serve.
Serves 6.