 When planning a picnic, select dishes that taste better the next day. Look for recipes that are served cold or at room temperature, and that need time for the flavors to mix. For an afternoon at Waterworld USA, offer guests a delicious roasted shrimp and orzo salad. Flavored with scallions and fresh parsley, this salad is light but filling. A pressed sandwich stuffed with Italian ingredients like pesto and mozzarella is rustic and scrumptious. For a decadent treat, give each guest a take-out container full of homemade potato chips. To look at these picnic-perfect recipes,
.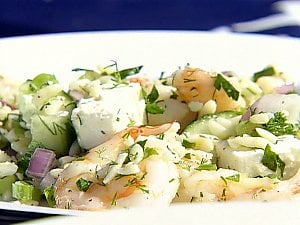 Ingredients
Kosher salt
Good olive oil
3/4 pound orzo pasta (rice-shaped pasta)
1/2 cup freshly squeezed lemon juice (3 lemons)
Freshly ground black pepper
2 pounds (16 to 18 count) shrimp, peeled and deveined
1 cup minced scallions, white and green parts
1 cup chopped fresh dill
1 cup chopped fresh flat-leaf parsley
1 hothouse cucumber, unpeeled, seeded, and medium-diced
1/2 cup small-diced red onion
3/4 pound good feta cheese, large diced
Directions
Preheat the oven to 400 degrees F.
Fill a large pot with water, add 1 tablespoon of salt and a splash of oil, and bring the water to a boil. Add the orzo and simmer for 9 to 11 minutes, stirring occasionally, until it's cooked al dente. Drain and pour into a large bowl. Whisk together the lemon juice, 1/2 cup olive oil, 2 teaspoons salt and 1 teaspoon of pepper. Pour over the hot pasta and stir well.
Meanwhile, place the shrimp on a sheet pan, drizzle with olive oil, and sprinkle with salt and pepper. Toss to combine and spread out in a single layer. Roast for 5 to 6 minutes, until the shrimp are cooked through. Don't overcook!
Add the shrimp to the orzo and then add the scallions, dill, parsley, cucumber, onion, 2 teaspoons salt, and 1 teaspoon pepper. Toss well.
Add the feta and stir carefully. Set aside at room temperature for 1 hour to allow the flavors to blend, or refrigerate overnight. If refrigerated, taste again for seasonings and bring back to room temperature before serving.
Serves 6.
Information
Category

Salads, Main Dishes

Cuisine

North American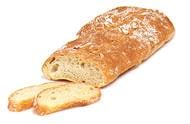 Ingredients
2 cups fresh basil leaves, rinsed and dried
1/2 cup freshly grated Parmesan cheese
1/3 cup pine nuts, lightly toasted
2 garlic cloves, coarsely chopped
1/2 teaspoon coarse salt
1/4 teaspoon freshly ground pepper
1/2 cup plus 1 tablespoon extra-virgin olive oil
1 red bell pepper (about 7 ounces)
1 small eggplant (about 8 ounces), cut lengthwise into 1/4-inch-thick slices
1 zucchini (about 8 ounces), cut lengthwise into 1/4-inch-thick slices
1 yellow summer squash (about 7 ounces), cut lengthwise into 1/4-inch-thick slices
Extra-virgin olive oil, for brushing
Coarse salt and freshly ground pepper
2 loaves ciabatta (each about 8 by 10 inches), halved horizontally
1 pound fresh mozzarella cheese, cut into 1/4-inch-thick slices
1/3 pound thinly sliced prosciutto
Directions
Make the pesto: Pulse basil, Parmesan, pine nuts, garlic, salt, and pepper in a food processor until combined. With machine running, add 1/2 cup oil in a slow, steady stream. Transfer to a small airtight container, and top with remaining oil. Pesto can be refrigerated overnight.
Preheat grill or grill pan to medium-high. (If you are using a charcoal grill, coals are ready when you can hold your hand 5 inches above grill for just 3 to 4 seconds.) Grill bell pepper, turning with tongs, until blackened all over. Place in a bag, close bag, and steam 15 minutes. Peel pepper, and discard skin.
Lightly brush both sides of eggplant, zucchini, and summer squash with oil, and season with salt and pepper. Grill, flipping once, until golden brown and soft, 3 to 4 minutes per side.
Pull out most of the doughy center of bread, and reserve for another use (such as breadcrumbs). Brush inside of each loaf with oil. Spread pesto over bottom half of each loaf.
Top one loaf bottom with grilled vegetables and half the mozzarella; top remaining loaf bottom with prosciutto and remaining mozzarella.
Sandwich top and bottom of each loaf, and press firmly. Tightly wrap each sandwich in plastic, allowing air to release before sealing.
Wrap each in parchment paper, and tie with kitchen string. Place sandwiches in refrigerator, and weigh down with a heavy object (such as a Dutch oven). Refrigerate at least 2 hours (or overnight). Slice, and serve.
Serves 6.
Information
Category

Main Dishes, Sandwiches

Cuisine

Italian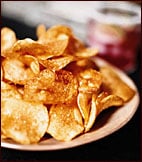 Ingredients
5 Idaho baking potatoes, peeled
Kosher salt
Vegetable oil, for frying
Directions
Using a mandoline, slice the potatoes 1/16 inch thick. Rinse the slices under cold water and put them in a large bowl with 2 tablespoons of salt. Add cold water to cover and let stand for 1 hour.
Drain the potatoes and return them to the bowl. Add water to cover and let soak for 1 more hour. Drain and pat dry.
In a large pot, heat 2 inches of oil to 350° over moderately high heat. Working in small batches, fry the potato chips, stirring a few times, until golden, about 4 minutes. Using a slotted spoon, transfer the potato chips to paper towels to drain. Sprinkle with salt and serve.
Serves 8.
Information
Category

Other, Snacks

Cuisine

North American