Come Party With Me: Wedding — Dessert Once you've decided which cake trend suits your wedding style, it's time to think about the flavor of the cake. Although many couples have differing tastes, you can compromise on a flavor that suits both of you. Each layer can be different, or you can offer a variety of smaller cakes.
Since Sean likes vanilla and Elena loves chocolate, they've decided to serve a marble cake at their reception. A marble cake is made with both chocolate and vanilla batters. The final cake is topped with with a swiss meringue buttercream.
For more wedding ideas, check out IDoSugar. To take a look at the recipe — it's a little complicated! —
.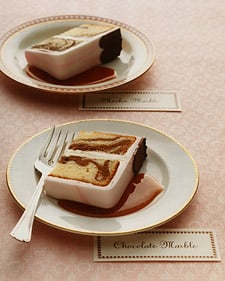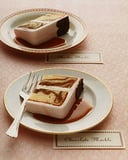 Ingredients
2 each 7 3/4-by-5 5/8-inch, 10 3/4-by-7 5/8-inch, 13-by-9 7/8-inch, and 16 1/2-by-12 3/8-inch oval layers chocolate and mocha Marble Cake, see below
4 pieces corresponding-size 3/16-inch thick foam board
2 recipes Swiss Meringue Buttercream, see below
12 pints rolled fondant
Cornstarch, for dusting
Gel-paste food coloring in pink and brown
1 oval cake board, 20 by 15 1/2 inches
28 wooden dowels, 1/4-inch diameter, 4 1/8 inches long
Unsweetened cocoa powder, for dusting
Modeling Chocolate, see below
1/2 recipe Royal Icing, see below
Caramel Sauce, (You will need nineteen batches of caramel sauce to serve 150 guests), see below
Fondant Amounts (Approximate): 7 3/4-inch tier, 2 pounds; 10 3/4-inch tier, 2 1/2 pounds; 13-inch tier, 3 1/2 pounds; 16 1/2- inch tier, 4 pounds
Directions
Prepare tiers: Trim layers. On corresponding-size foam boards, fill with buttercream to make 4-inch-high tiers. Coat thinly with buttercream to seal in crumbs. Refrigerate at least 1 hour and up to 1 day.
Cover tiers: Roll fondant (see note above for amounts) into a small disk on clean work surface lightly dusted with cornstarch. Dip the end of a toothpick into pink food coloring, and press into fondant. Repeat to create a random pattern of pink marks on fondant. Fold edges toward center; knead 3 or 4 turns. Roll out fondant until 1/8 inch thick and large enough to cover largest tier (marbling will be visible). Drape fondant over a rolling pin; center and place it on the tier. Starting at the top, smooth fondant onto cake with your hands. Cut away excess with a pastry wheel. Repeat to cover remaining tiers.
Assemble tiers: Place largest tier on cake board. Insert 12 dowels, 10 in an oval about 2 1/2 inches from edge, and 2 evenly spaced in the center. Center and place 13-inch tier on top. Insert 10 dowels, 8 about 2 1/2 inches from edge and 2 evenly spaced in the center. Center and place 10 3/4-inch tier on top. Insert remaining 6 dowels in an oval about 2 1/2 inches from edge.
Decorate tiers: On a work surface dusted with cocoa powder, knead modeling chocolate until pliable. For each tier, roll a band about 2 1/2 inches wide and long enough to go halfway around tier. Using a pizza cutter, trim bottom edge to be straight. Trim top edge with a scallop cutter to make band 1 1/2 inches high at scallops' peaks (scraps can be reused). Use a damp pastry brush to moisten bottom edge of fondant-covered tier. Working quickly and carefully, lift band, and attach it to side of tier, placing cut ends at sides of cake. Repeat with more chocolate to make a band for other side. To make band for cake board, roll out another long band, and trim to be about 3/4 inch wide. Cut away top edge using scallop cutter. Use damp pastry brush to moisten area where cake board meets edge of bottom tier. Working quickly, lift prepared band and press it onto cake board.
Tint 1/2 cup royal icing brown; transfer to a pastry bag fitted with a coupler and an Ateco number 3 round tip. Pipe dots about 3/8 inch apart around tiers' bottom edges. Use dots of icing to attach desired brown ribbon to chocolate bands, and bows to ribbon (we wrapped 1/2-inch center-stitched brown grosgrain ribbon around chocolate bands, and used 7-millimeter brown silk ribbon for bows).
To serve, spoon 2 tablespoons caramel sauce onto each plate; top with a slice of cake.
Serves 150.
8 tablespoons (1 stick) unsalted butter, softened, plus more for pans
1 3/4 cups cake flour (not self-rising), plus more for dusting
2 teaspoons baking powder
1/2 teaspoon salt
1/3 cup milk, room temperature
1/3 cup heavy cream, room temperature
1 cup sugar
3 large eggs
1 teaspoon pure vanilla extract
1/3 cup best-quality unsweetened cocoa powder
1/4 cup boiling water
2 tablespoons instant espresso powder, for mocha layers
Batter for each 3-inch-deep pan: 7 3/4-inch-by-5 5/8-inch, 7 cups; 10 3/4-inch-by-7 5/8-inch, 10 1/2 cups; 13-inch-by- 9 7/8-inch, 14 cups; 16 1/2-inch-by-12 3/8-inch, 17 1/2 cups.
Preheat oven to 350 degrees. Butter pans; line with parchment paper. Butter lining; dust with flour, tapping out excess. Set aside. Sift together cake flour, baking powder, and salt; set aside.
Combine milk and cream in a small bowl; set aside. Cream butter and sugar on medium speed in the bowl of an electric mixer fitted with the whisk until pale and fluffy, about 5 minutes. Add eggs one at a time; mix well after each addition. Mix in vanilla. Add flour mixture in three batches, alternating with the milk mixture and beginning and ending with flour.
Combine cocoa and the boiling water in a medium bowl; for mocha cake, add espresso powder. Stir in 1 cup cake batter.
Fill prepared pans with spoonfuls of vanilla and chocolate batter to form a checkerboard pattern. Run the tip of a paring knife or a wooden skewer through batter in a figure-eight motion to make swirls. Bake until tops are golden, and a cake tester inserted in centers comes out clean, 40 to 50 minutes. Let cakes cool completely in pans on wire racks.
Makes 3 1/2 cups batter.
12 large egg whites
3 cups sugar
2 pounds (8 sticks) unsalted butter, slightly softened
2 teaspoons pure vanilla extract
Put egg whites and sugar in the heatproof bowl of an electric mixer set over a pan of simmering water. Whisk constantly until sugar is dissolved and mixture registers 140 degrees on an instant–read thermometer, 2 to 3 minutes.
Transfer bowl to mixer; fit mixer with the whisk. Beat on high until mixture is fluffy and cooled, about 10 minutes.
Reduce speed to medium-low; add butter several tablespoons at a time, mixing well after each addition. Add vanilla, and mix until buttercream comes together, 3 to 5 minutes. Reduce speed to low, and mix until buttercream is smooth and no air bubbles remain, about 2 minutes.
Makes 10 cups.
10 1/2 ounces bittersweet chocolate couverture, finely chopped
1/2 cup light corn syrup
2 ounces cocoa butter, melted
Valrhona cocoa powder, for dusting
Place chocolate in a medium heat-proof bowl set over a saucepan of simmering water. Melt to 110 degrees.to 115 degrees.
Place light corn syrup in small heavy-bottomed saucepan; heat to 95 degrees. and pour into melted chocolate. Add cocoa butter; stir well to combine. Set mixture aside in a cool, dry place, stirring occasionally until firm and pliable, 1 1/2 to 2 hours.
Wrap mixture tightly in plastic wrap. Shape into a flat disk, and chill until firm, about 1 hour. Transfer mixture to a clean work surface; knead to a smooth consistency. If modeling chocolate is sticky, sift a light layer of cocoa powder over work surface prior to rolling out. Store wrapped tightly in plastic wrap for up to 1 month.
Makes about 1 pound.
1 pound confectioners' sugar
5 tablespoons meringue powder
Put sugar and meringue powder in the bowl of an electric mixer fitted with a paddle attachment. Add a scant 1/2 cup water; beat on low speed until think and fluffy, 7 to 8 minutes. If icing is too thick to pipe easily, add a few drops of water. Use icing immediately, or store in an airtight container at room temperature for up to 2 days. Stir icing before using.
Makes 2 cups.
1 cup sugar
1/4 teaspoon salt
1/4 cup water
1/2 cup heavy cream
2 tablespoons unsalted butter
1/2 teaspoon pure vanilla extract
In a small saucepan, combine sugar, salt, and the water. Cook over medium heat until sugar is a medium amber color, about 7 minutes; wash sides of pan with a pastry brush dipped in water to prevent crystals from forming. Remove from heat. Stir in heavy cream; add butter, and stir until combined. Let cool to room temperature; stir in vanilla. Sauce can be stored in an airtight container in refrigerator up to 2 weeks. Reheat gently; serve at room temperature.
Makes about 1 cup.
Information
Category

Desserts, Cake

Cuisine

North American