Come Party With Me: Wedding — Menu When planning the menu for your wedding, it's important to remember what time of year the ceremony will take place in. It's tempting to want to incorporate Spring's asparagus and strawberries into the menu, but Elena's wedding will take place in October, a time when neither asparagus or strawberries are in season.
Thus this menu features seasonal twists on classic, yet sophisticated dishes that highlight some of Sean and Elena's favorite foods. A mixture of meat and vegetarian appetizers will start off the evening. Since the couple is originally from Buffalo, NY, spicy buffalo wing bites are a must. Double mushroom pizza is a nice vegetarian alternative.
Elena loves beets, so a roasted beet and goat cheese salad makes a lovely first course. For the entrée, guests have a choice of halibut with Fall vegetables or steak with blue cheese potatoes. Both main dishes are decadent and delicious.
For more wedding planning mania, check out IDoSugar. To look at these recipes,
.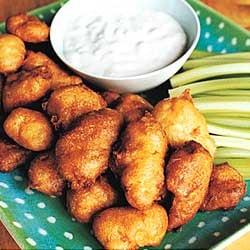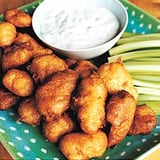 Ingredients
Vegetable oil (1 1/2 quarts), for frying
2 1/2 cups plain pancake mix
1 1/4 cups water
8 teaspoons hot sauce, such as Tabasco
1 1/4 pounds chicken tenders or skinless, boneless chicken breast, cut into bite-size pieces
Salt
2 scallions, finely chopped
1 teaspoon coarsely ground pepper (one-third palmful)
1 cup good-quality refrigerated blue cheese dressing, such as Marie's brand
Store-bought celery sticks
Directions
In a deep skillet, heat 1 1/2 inches of oil over medium heat.
While the oil is heating, make the batter: In a wide mixing bowl, combine 2 cups of the pancake mix, the water and 6 teaspoons of hot sauce.
Place the remaining 1/2 cup of pancake mix in another wide mixing bowl. Arrange the batter and the bowl of pancake mix near the stove. Line a plate with a few paper towels and keep within reach.
Once the oil is heated, toss the chicken pieces with the remaining 2 teaspoons of hot sauce, then toss them in the dry pancake mix, coat evenly and shake off the excess. (The dry pancake mix will help the batter stick to the chicken pieces.)
Add some of the chicken to the batter (you're going to batter and fry in 3 to 4 batches) and toss with your fingers or a fork. Remove the first batch from the batter, shaking off the excess, and carefully add the chicken to the hot oil.
Fry the chicken for 2 minutes on each side, flipping once, until deep golden brown. Remove the fried chicken from the oil and drain on the paper towel-lined plate, then season with salt. Repeat until all the popcorn chicken bites are fried.
Stir the chopped scallions and pepper into the blue cheese dressing. Serve the chicken immediately with the dressing on the side. Garnish the platter with the celery sticks.
Serves 4.
Information
Category

Poultry, Appetizers

Cuisine

North American