Come Party With Me: Welcome Back - Drinks Know someone who is coming back from a stint away? Host a welcome back in their honor! I'll be doing that for the return of my dear friend Melissa with a San Francisco themed cocktail party. Melissa has created a guestlist, and I made/sent the invitations through email. The soiree will be at my home and all of the food will be local, fresh ingredients that highlight the SF Bay Area's most delicious dishes. Wine country will serve as the inspiration for the drinks, but if you think I'm taking the easy way out by pouring bottles of wine, think again! I'll be offering two types of sangria the classic red and a refreshing white wine version (known as clerico). Even if you are not hosting a welcome back party, your summer will not be complete without these sangria recipes so, Along with the sangria, I'll serve beer, sparkling water, iced tea, and plain water flavored with cucumber and mint. I'm ordering a pony keg (a smaller half sized keg) of Lagunitas pilsner because the brewery is located in our hometown and makes a satisfying, frothy beer that will totally please the beer drinkers in attendance.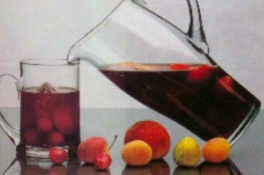 Sangria
Recipe courtesy of David, a Spanish barman at a random bar in the Juderia in Cordoba, Spain
2 bottles +2 cups of inexpensive red wine (ex. Charles Shaw from Trader Joe's)
5 cans Pellegrino Limonata - If you can't find Pellegrino Limonata you could make it with fresca or squirt. One time I even used sparkling water. In Spain they use Fanta Limon and in my opinion the best substitute is the Pellegrino Limonata.
2 1/2 cups Dark Rum
1 cup Cointreau (or Triple Sec)
1/2 cup Apple Schnapps (I have substituted peach and that's good too)
4 tsp sugar
Ice
Chopped fruit, such as apples, oranges, lemons-use what's in season
Cinnamon Sticks
Fill a large pitcher or punch bowl 2/3 full with ice. Add wine and Pellegrino Limonata.
Add in liquors, fruit, sugar, and cinnamon sticks. Stir vigorously with a wooden spoon.
Test taste. If not sweet enough add another tablespoon of sugar. If it tastes too much like liquor add more Pellegrino Limonata. If it is too sweet add more wine.

Clerico
From Drinks Mixer
2 liters white wine
3 bananas
1 apple
1 orange
6 strawberries
1/2 lb grapes
1/2 lb sugar
Remove the skin of all the fruits and cut the fruit into small pieces. Put the fruit in a large bowl or pitcher and cover the fruit with the sugar.
Pour enough wine to cover the fruit and sugar and place bowl in the fridge. Leave it for at least 2 hours and or all day (longer preferred), and then mix it with the rest of the wine.
Serve each drink with some fruit in the glass.
Makes 1 pitcher.
If desired top with 8 ounces seltzer or lemon-lime soda.