Conde Nast to Launch Gourmet Live
Conde Nast Reinvents Gourmet With Gourmet Live
So the rumors were true: Gourmet is back — although not in the traditional way some might expect. Rather, Gourmet will be rising from the ashes as a website and application for the iPad and handheld devices. This morning, Women's Wear Daily tweeted live as Condé Nast executives made the announcement. The new experience, Gourmet Live, will include articles, photos, and video in addition to what exists in the archives and will focus on "seasonal foods, holidays, special occasions, restaurants, travel, food culture, chefs, and more."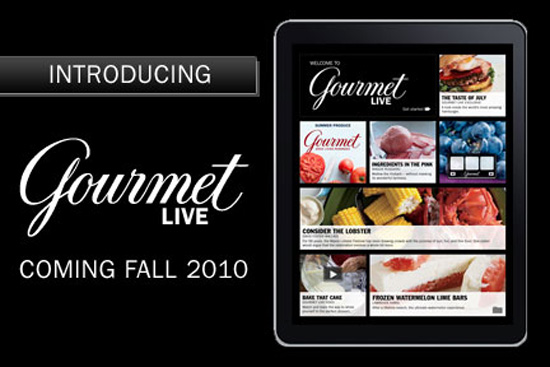 Readers will have the capability to share and rate articles across social networks, as well as earn virtual rewards such as the ability to unlock hidden content. It doesn't sound like Gourmet Live — which will launch the fourth quarter of 2010 — will involve former Gourmet editor Ruth Reichl, who tweeted, "Re: Gourmet; they're reviving the brand, not the magazine. Pity." Pity indeed, although, if the caliber of writing is the same, I'll be looking forward to having Gourmet back, at least in some form. See a sneak preview of the new technology when you read more.
What do you think of the concept? Does it sound like the future of food publishing?