Conversation Heart Cookies (Message in a Cookie Recipe)
Get the Conversation Started With Sugar Cookies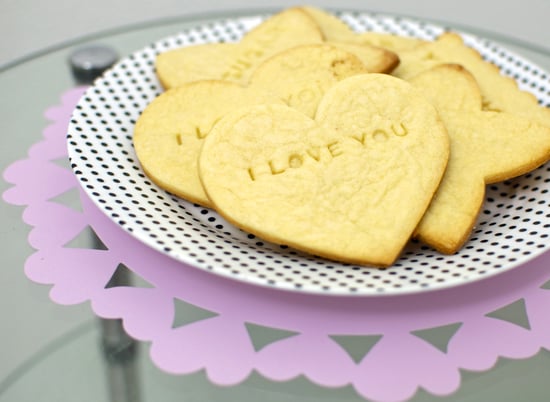 Sweetheart candies are an essential on Valentine's Day, and recently Williams-Sonoma took the same idea to cookies with Message in a Cookie, a kit that comes with three different cookie-cutter shapes: a heart, a star, and a scalloped square. Each cookie cutter features slots for text, where you can use the accompanying letter stamps to make your own talking sugar cookies.
I whipped up a quick batch of Alton Brown's delicious sugar cookie dough and stamped sweet sayings into my heart-shaped cookies. I can't wait to use the scalloped square to create edible place settings at my next dinner party. Of course, you can achieve a similar idea by using a traditional cookie cutter and carefully etching out your text with a paring knife, but these handy cookie cutters just make it easier. Stop by your local Williams-Sonoma to pick up your own conversation cookie cutters, and keep reading for the sugar cookie recipe.
Ingredients
3 cups all-purpose flour
3/4 teaspoon baking powder
1/2 teaspoon sea salt (or 1 teaspoon kosher salt)
1 cup unsalted butter, softened
1 cup sugar
1 egg, beaten
1 tablespoon milk
2 teaspoons vanilla extract
Powdered sugar, for rolling out dough
Directions
Sift together flour, baking powder, and salt. Set aside.
Place butter and sugar in large bowl of electric stand mixer and beat until light in color. Add egg, milk, and vanilla, and beat to combine. Put mixer on low speed, gradually add flour, and beat until mixture pulls away from the side of the bowl.
Divide the dough in half, wrap in waxed paper, and refrigerate for 2 hours.
Preheat oven to 375 degrees F.
Sprinkle surface where you will roll out dough with powdered sugar. Remove 1 wrapped pack of dough from refrigerator at a time, sprinkle rolling pin with powdered sugar, and roll out dough to 1/4-inch thick. Move the dough around and check underneath frequently to make sure it is not sticking. If dough has warmed during rolling, place cold cookie sheet on top for 10 minutes to chill.
Cut into desired shape, place at least 1-inch apart on greased baking sheet, parchment, or silicone baking mat, and bake for 7 to 9 minutes or until cookies are just beginning to turn brown around the edges, rotating cookie sheet halfway through baking time. Let sit on baking sheet for 2 minutes after removal from oven and then move to complete cooling on wire rack. Serve as is or ice as desired. Store in airtight container for up to 1 week.
Information
Category

Desserts, Cookies

Cuisine

North American

Yield

About 36 cookies