Cookbook Review: Easy Asian Noodles by Helen Chen
Must Read: Easy Asian Noodles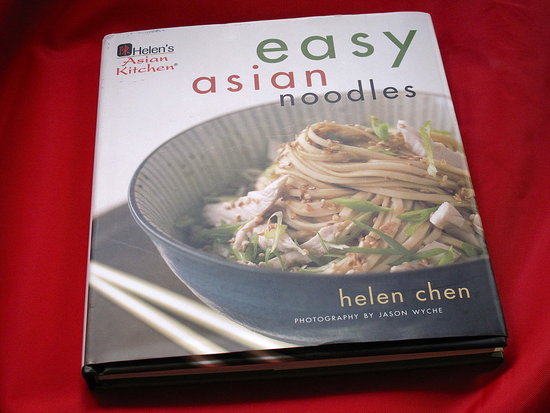 Upon realizing that March is National Noodle Month and National Sauce Month, I've been obsessed with learning more about Eastern noodle dishes and Asian sauces. So I swore it was culinary kismet when I got sent a copy of Easy Asian Noodles ($18). The title is by Helen Chen, a writer with three other Chinese cookbooks under her belt and the founder of an Asian cookware line. For an established Asian cooking figure like Chen, would this new book live up to its expectations? Find out when you read more.
Pros:
The front includes a glossary of Asian noodles, complete with photos, that clears up confusion about the difference between Asian wheat, egg, and rice noodles.
Recipes includes notes about crucial steps, history, variations, and substitutions for each dish.
I made the Cantonese roast duck soup noodles, and found the recipe to be quick, satisfying, and easy to follow.
Hardcover is sturdy, yet a manageable size for cooking with on an everyday basis.
Cons:
The easy noodle recipes often call for shortcuts like canned chicken stock or store-bought Chinese roast duck.
Newcomers to Asian cooking may be looking for more of an introduction to ingredients like kombu and yu choy.
Many of the recipes seem like toned down versions of more flavorful and authentic Asian cuisine.
Recipes: The title breaks Asian noodles into three categories: stir-fried, pan-fried, and sauced; soup noodles; and cold noodles and noodle salads. Among the enticing recipes are:
Pad thai
Japanese curry udon
Chicken coconut noodle soup
Cold sesame noodles, Sichuan style
Imagery: Roughly half of the recipes are accompanied by whole-page pictures that emphasize the fresh ingredients included in each noodle dish.
Overall Rating: If you're looking for an exhaustive resource on authentic Chinese or Japanese noodle dishes, this book isn't for you. This tome, however, would be a great addition to any beginner's kitchen; it's a useful introduction to a wide range of pan-Asian noodle staples, such as Cantonese pork lo mein and Sichuan favorite ants climbing a tree.