Cookie Swap Ideas
Tips For a Sparkling Cookie Swap, à la Christina Tosi
Christina Tosi, mastermind bakestress behind Momofuku Milk Bar in New York City, has partnered with Chandon Sparkling Wine to develop a signature cookie for the holiday season. The inventor of Compost Cookies knows a thing or two about cookie swaps. She shared her advice on the best (and easiest) cookies to bake as well as how to avoid any cookie fails.
A Fast and Easy Cookie For Novice Bakers
"I'm a big fan of either the no-bake cookie or a clever hybrid of the Rice Krispie treat," recommends Christina. "Melt marshmallows and butter, add any kind of cereal, fold in nuts, spices, sprinkles, etc. You can even use cookie cutters to cut out the treats, once [they have] firmed up. You don't even need an oven for this one."
The Easiest Cookies to Double and Triple in Batch
According to Christina, "bar cookies and drop cookies" are the easiest to make large batches of. "The classic chocolate chip cookie or sugar cookie multiplies nicely and always seem to disappear when baked off!"
Which Cookies to Avoid Doubling or Tripling
As for the holiday no-nos, the pastry chef explains, "Cookies that are tender and temperamental to being overmixed (like a shortbread) should always be made in the single-batch size to avoid overworking when mixing larger batches."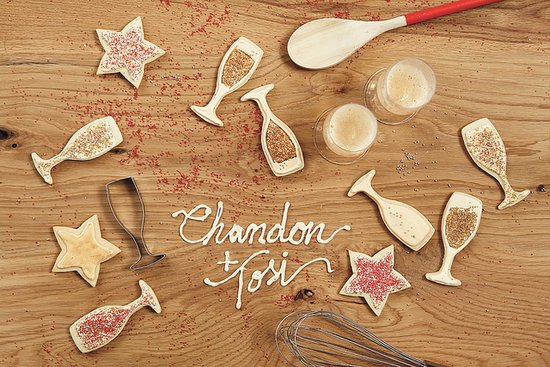 The Go-To Cookie-Swap Cookie
"I love to take something classic and glam it up with bubbles!" says Christina. "My Chandon Sparkle Cookie is just that. It starts with a four-ingredient cookie dough [that is] very easy to mix together and roll/cut out. Rather than a royal icing or standard frosting, I mix together Chandon sparkling wine with confectioner's sugar and use it as the cookie glaze. The icing brings a fruity effervescence to my holiday cookie. It's clever, glamorous, and classy — what every good cookie swap needs."
Avoid the Stuck Cookie Cutter
"Cold dough is the easiest to cut, but I also keep a little bowl of flour nearby and dunk my cutters in the bowl every three cuts or so to keep sharp, nonstick lines," offers Christina.
Favorite Cookie Toppings
"I like the classic sugar sprinkles, crystals, and repurposed holiday candy — crushed-up candy canes, After Eights, and peppermint bark."
The Best Way to Pack and Ship Cookies
So cookies do not crumble while in transit, Christina explains, "[At Momofuku Milk Bar], we use individual bags [for each] cookie, and then pack them tightly into little cookie tins. The packaging strategy depends on how fragile the cookie being shipped is. We use tissue paper and bubble wrap when shipping to friends and family across the country, just to be safe!"