Cooking With Aloe Vera
Adventures in Ingredients: Aloe Vera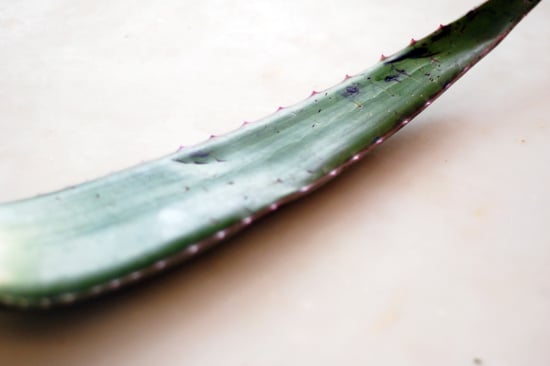 For weeks, I'd been eying these spiky succulent leaves at Berkeley Bowl. I always knew that aloe vera came from this common plant, but never thought I would actually need or want the opportunity to work with it myself. And then there's the whole issue of cooking with it and how to harvest it. It's popular in coconut water these days, but other than that, ingesting it is somewhat uncommon. But those who regularly eat or drink this strange succulent rave about its supposed health benefits, from healing acne to curing cancer.

I did a quick scan of the Internet on how to cut and prepare fresh aloe vera right from the leaf. I found several recipes for smoothies featuring fresh aloe vera pieces and one that served it poached with lime juice. A smoothie sounded more appetizing. Honestly, I got a little bit nervous when I found out that the dark red sap that apparently seeps out should not be ingested or it will cause unpleasant digestive issues. Still, I went for it.

Filleting this piece of aloe vera was a strange experience: I was on the lookout for that dark red sap, though I didn't ever encounter it. The aloe vera gel looked sticky and mucous, not delicious (or even edible). I'd read in a few places that aloe vera on its own is kind of bitter, so of course, I immediately cut off a piece and took a bite. It tasted like nothing, but I did notice a strange sensation in my mouth and my tongue went a little numb. To find out what I did with the fresh fillet of aloe vera, keep reading.

It's important to eat the gel within 20 minutes of harvesting it, otherwise its enzymes begin to break down, so I decided to whip together a simple afternoon smoothie with bananas, almond milk, strawberries, ice, and the cubed, filleted aloe vera. This smoothie was surprisingly refreshing. The aloe vera didn't impart any flavor whatsoever, and I didn't experience that tongue numbness again.

I was surprised to discover how refreshed I felt after drinking this smoothie. This is definitely something I will be making again — in fact, I'm craving one right now.
Make sure to read about my adventures with banana flowers and Indian bitter melon.
Strawberry Banana Aloe Vera Smoothie
From Camilla Salem, YumSugar
Ingredients
1 banana
1 1/2 cups unsweetened vanilla almond milk
4 strawberries, quartered
1 cup fresh aloe vera, cubed
1/2 cup ice
Directions
Place everything in a blender.
Blend for about a minute until smooth.
Serve and drink immediately.
Information
Category

Drinks

Cuisine

North American