Cooking With Morels
In Season: Morels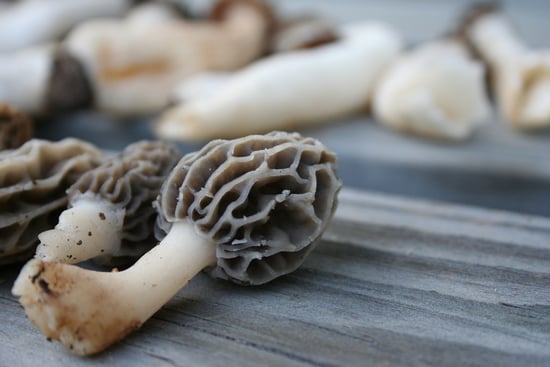 Spring produce may bring to mind images of asparagus and artichokes, but there are plenty of lesser known vernal veggies that are just as amazing as their popular counterparts. Take morel mushrooms. Come Spring, these fungi appear at the edges of forested areas, marked by conical caps and beautifully shirred crevices.
A nutty aroma and meaty texture mean they're likely the most prized mushrooms in the Western world, overshadowed only by truffles. But beware: these fragile fruits, which grow in the wild, are difficult to find, expensive to obtain, and highly perishable. How to work around these challenges, when you read more.
Some people are brave enough to forage for their own, but they can easily be picked up at a high-end local grocer in the mushroom department. Prices run anywhere from $15 to $50 a pound, but shopping in season at a farmers market will help keep costs down. If fresh morels aren't available, they're also sold dried.
Look for dark, plump caps that are free of bruises or dried stems. Use them immediately, if possible; if not, store them refrigerated in a paper bag. Be sure to clean them, as their irregular surface can be fodder for critters or dirt: run them rapidly over water, then cut them (if desired) and soak them in water. A few preparation suggestions:
What do you think of morels? Have you ever tried to work with them at home?