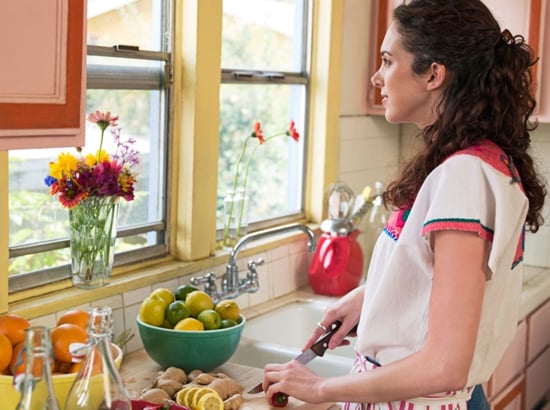 Although there's nothing more rewarding then creating a delicious meal to share with friends and family, most of the time, I'm cooking for myself. The first step to cooking for one is to get over any fears of eating alone. Just because you are dining by yourself doesn't mean that you should eat cereal or ramen! Instead, treat yourself to a healthy and flavorful meal. Here's how I suggest you cook for one:
Stock your pantry with staples like pasta, beans, and rice. These items don't go bad and can be used to cook multiple meals.
Know what your personal portion size is. The first time you cook rice or pasta, make a note of how much you are cooking. For instance, I make 1/2 cup of rice and a quarter-size handful of spaghetti. Going forward, always cook that amount.
If you like to follow recipes, look for recipes that have a smaller serving size. Recipes that serve four are easy to halve.
Keep reading for the rest of my helpful tips!
Don't be afraid of leftovers. When halving a recipe that serves four, there's still a chance that some food will be leftover. Also, be creative with leftovers: toss protein with greens for a lunch salad or use cooked vegetables in a frittata.
Think outside the box. Craving roast chicken? A whole chicken is too much for one person, but a bone-in, skin-on chicken breast is ideal for just you. Roast it the way you normally roast a whole chicken, rubbed with herb butter and with lemons stuffed under the skin.
Purchase single-serving quantities. When you want to make burgers, head to the meat counter and pick up four to six ounces of ground beef. Rather than buying a bag of buns, pick up one from the deli. Same goes for seafood: get five shrimp, eight to 10 clams or mussels, or a six-ounce fillet of fish. It may cost a little more than purchasing the food in larger quantity, but that way you'll reduce food waste.
Keep one or two favorite frozen foods on hand. There are going to be nights when you're too tired to cook. For these occasions, make sure you have a good back-up in the freezer. I have a weakness for Stouffer's French Bread Pizza and keep one in my freezer for days when I don't want to cook or am simply out of food.
Consider ordering a community shared agriculture produce box. Fresh, in-season fruit and vegetables will always be at your finger tips.
Make each meal special. Set a TV tray out and catch up on your shows, bring a book or magazine to the table, or simply set the table with a place mat, candles, and flowers. You'll be more likely to enjoy the food!
Lastly, remember that while you may be eating alone, you're not the only one in the world who is dining alone. There's a chance I am, too!
Do you cook for yourself? Please share your suggestions below!