Cooking With Padron Peppers
In Season: Padron Peppers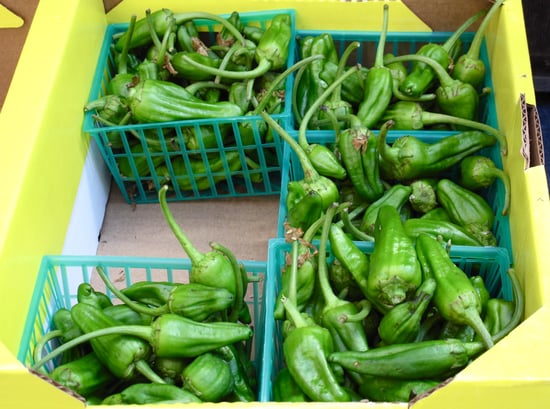 Every Thursday, I drop by the Crocker Galleria Farmers Market near the Sugar offices to take a look at the latest in-season produce. Yesterday, I spotted something new: bite-sized, velveteen-sheened padrón peppers. Although these chiles are typically in season from mid-June all the way through September, this was the first I'd seen of them. Have you spotted some at your market? Keep reading to find out what to do with padron peppers.
Unlike many other green chiles, padrón peppers (known also by their Spanish name, pimiento de padrón), have a sweet flesh, thin skin, and no seeds, which makes them ideal for eating whole. When they're small and young, these peppers possess a nutty, mild flavor that makes them so beloved. It's possible to come by the occasional fiery pepper, however: Cross-pollination with other nearby hot chiles may produce the occasional spicy padrón.
Padrón peppers originate from Spain, where they're favored in a straightforward tapas preparation that involves nothing more than oil and sea salt. Their popularity, however, has since spread to France, Italy, Morocco, and other parts of the world, including the United States. Here are a few ways to enjoy them:
Those of you who've ever picked a peck of padrón peppers: how did you eat them?