Cooking Tips From Bobby Flay's Demo at the 2010 NYCWFF
Bobby Flay's Simple Cooking Tips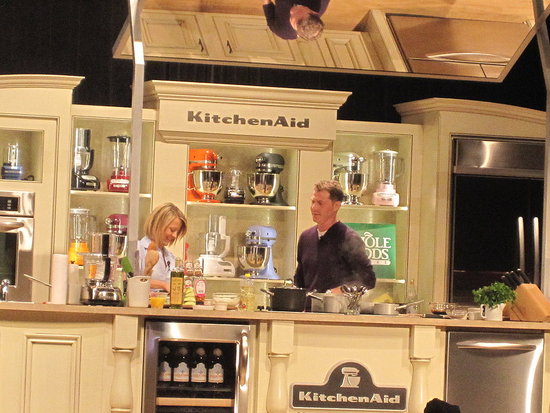 At his demo at the Food Network New York City Wine and Food Festival, Bobby Flay, who said Iron Chef "is the hardest thing I do," showed the crowd he is a team player. He invited Kelsey Nixon, a former Next Food Network Star contestant, up on the stage with him. "I think the team at Food Network is great. I've been playing on this team for a long time and it's my responsibility to make sure that we continue to find awesome new team players," Flay said of his support of young talent and his role as head judge on the NFNS. In between making roast rack of pork and smashed potatoes, he talked candidly of his wife, the Southern actress Stephanie March, and her love of queso. He also shared a bunch of helpful culinary tips with the crowd — learn what they are after the break.
When cooking pork, don't be afraid of pinkness. "It's OK to have medium rare cooked pork."
Build layers of flavors. Flay seasons each aspect of a recipe. For example, though they would all be combined into the finished dish, he seasoned the pork, the glaze, and the sauce each separately with salt and pepper.
Cook with canola oil. Flay prefers canola oil to extra virgin olive oil.
Always use unsalted butter. "I like to control the salt content in a dish. I like to use a lot of salt, but I want to add it — not have the butter add it."
If remodeling your kitchen, Flay recommends installing a gas stove. He dislikes electric stoves.
A sauce should never be too thick. "I hate sauces that are gloppy. Isn't that a horrible word? I like sauces that are liquidy."
Introducing someone to the wonderful world of chiles? Start with poblanos. They're a mild chile with no heat.
Are you a fan of Bobby Flay?