Corn Muffins Recipe With Pear and Candied Ginger
Edible Gifts: Ginger Pear Corn Muffins
Today's treat: corn muffins with a seasonal twist of pear and candied ginger.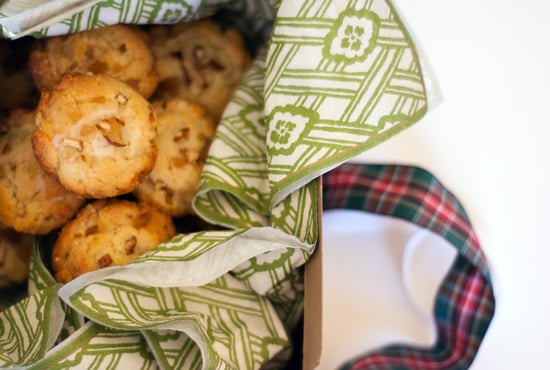 I'm crazy for corn muffins in general — I love the sweet, savory flavor and the hearty texture — but I especially love them as edible gifts because they're so versatile. Incorporating seasonal fruit and spiced with festive candied ginger, these muffins act as a sweet treat but aren't technically dessert. They'd make a yummy breakfast on Christmas morning or a grab-and-go snack for holiday house guests.
For a homey bakery vibe, pack a dozen or so muffins in a box lined with pretty napkins and tied with a bow. Get the corn muffin recipe now.
Ingredients
Nonstick cooking spray or unsalted butter, for muffin tins
4 cups unbleached all-purpose flour
1 cup coarse cornmeal
1/2 cup oat flour
3 tablespoons plus 1 teaspoon baking powder
1-1/4 cups sugar
2 large Bosc pears, cored and chopped, 3 tablespoons reserved for garnish
1/2 cup plus 3 tablespoons finely chopped candied ginger
3 large eggs
1 cup canola oil
1 1/4 cups plain yogurt
2 tablespoons applesauce
2/3 cup unsalted butter, melted
1 tablespoon apple cider
1/2 cup powdered sugar
Directions
Preheat oven to 350ºF. Spray 12 (4-1/2-ounce) individual muffin tins with nonstick cooking spray or coat with butter; set aside.
In a large bowl, whisk together all-purpose flour, cornmeal, and oat flour. Whisk in baking powder. Add sugar, and whisk to combine. Stir in pears and 1/2 cup ginger.
In a medium bowl, whisk together eggs, canola oil, yogurt, and applesauce. Add to flour mixture and stir to combine; stir in butter.
Fill prepared muffin tins 2/3 full with batter. In a small bowl, mix together reserved chopped pears and remaining 2 tablespoons ginger; sprinkle evenly over batter. Transfer to oven and bake until golden, about 30 minutes. Remove from oven and transfer pans to a wire rack.
To make the glaze, combine apple cider and powdered sugar in a small bowl. Drizzle glaze on top of each muffin.
Let muffins cool 15 minutes in pans before serving.
Makes about 36 muffins.
Information
Category

Breads, Muffins

Cuisine

North American