Corn Recipes
In Season: Corn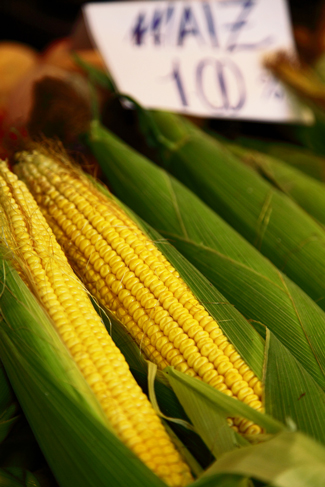 Did you know that corn was domesticated from a Mexican wild grass ancestor more than 8,700 years ago? There's a reason why maize, or corn, has been popular across civilization ever since; it's sweet, crunchy, substantially filling, full of nutrients, and inexpensive when it's in season (from the beginning of June into the Fall months of September and October).
Aside from being thousands of years old, corn — which grows in "ears" covered in kernels, threads of corn silk, and green husks — comes in a range of colors, from blue and black to the widely-available white and yellow types. When shopping for this grain at the market, look for ears that are firm in texture, heavy for their size, and have bright green husks and golden brown tassels.
If you can, peel back the husk a little and look for baby-sized kernels at the top; this indicates the corn's young and sweet. Keep corn, husk intact, in the refrigerator; consume ears as soon as possible to maximize their sweetness. Continue reading for more information and our favorite corn recipes.
Both white and yellow corn varieties work well in cooking preparations; white corn has smaller, sweeter kernels, while the yellow variety tends to be larger and more flavorful. A few of our favorite ways to prepare corn:
Share your favorite way to eat the Summer's bounty of corn below!
Source: Flickr User flydime