Cornbread Recipe With Bacon and Jalapenos
Make Cornbread Like a Southerner, Even If You're Not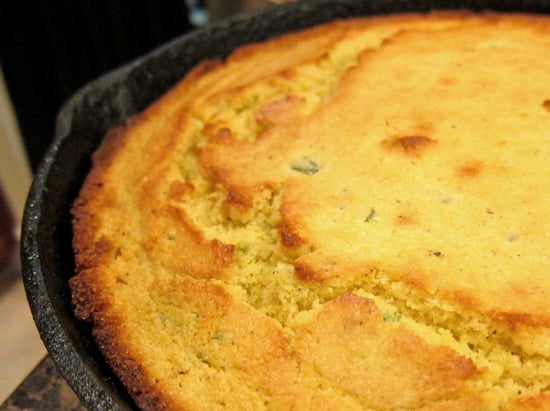 The secret to great cornbread is a well-seasoned and well-loved cast iron skillet. Also, bacon doesn't hurt.
I consider myself a connoisseur of cornbread, and this decadent recipe from the cookbook Good Grits is a game changer. Speaking of games, it would make a great side for Super Bowl Sunday, especially if you're making chili.
Southern chef Jim Shirley uses not only his grandma's recipe but also her cast-iron skillet. But even if you don't have an heirloom skillet, you can still cook like a Southerner. Writes Shirley in his cookbook: "At my house, this is considered a whole meal: fruit in your glass, veggies from your jalapeños, grain in the bread, dairy in the milk and eggs, and a little fat and protein in the bacon." Get the ultimate cornbread recipe now.
Ingredients
2 cups cornmeal (Martha White yellow self-rising)
1 cup all-purpose flour
1/2 cup sugar
1 teaspoon salt
1/2 teaspoon black pepper
2 eggs, beaten
1/4 pound melted butter
1 cup buttermilk
1 cup sour cream
4 scallions (chopped, green tips only)
1/4 cup chopped jalapeños
6 slices applewood-smoked bacon
1 bottle Hazy Blur Shiraz
Directions
Start out by opening a bottle of Hazy Blur Shiraz to prepare the way for some comfort food and possibly cancel the effects of at least 1 of the slices of bacon.
Mix all dry ingredients in a bowl. Stir in eggs, butter, buttermilk, sour cream, scallions, and jalapeños.
Lay out bacon in rows in your grandma's cast iron skillet and cook until done. Pour mix into the hot pan over bacon; don't lose juices. Slide skillet into a 425-degree oven. Relax with a glass of Shiraz for about 20 minutes, or until a toothpick inserted into the middle of the baking cornbread comes out clean.
To serve, flip the bread over onto a serving platter so the bacon comes out on top.
Information
Category

Breads, Bread

Cuisine

North American