Cornish Pasties Recipe
A British Treat: Cornish Pasties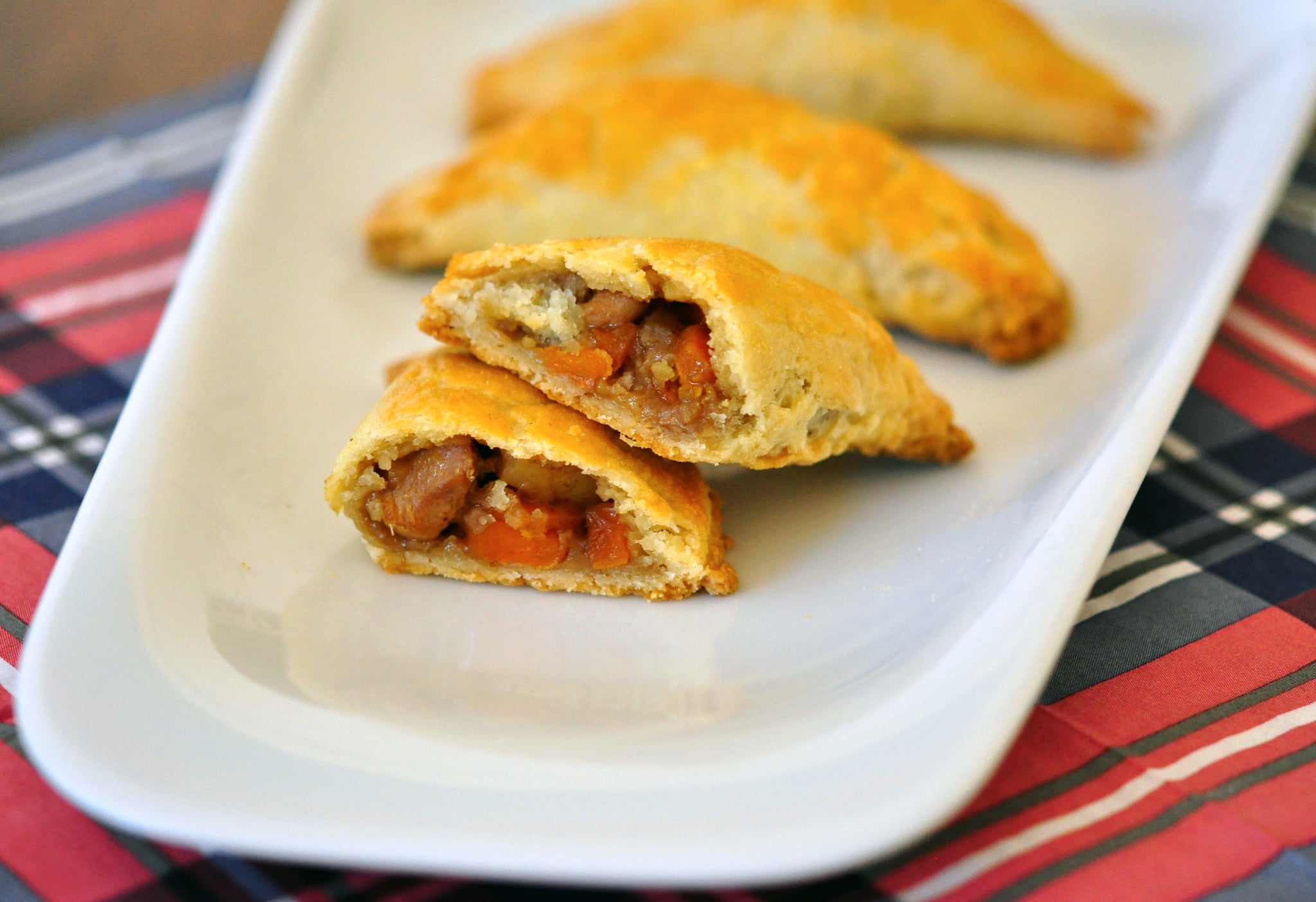 If you're going to start exploring British fare, then look to one of our favorite UK chefs, Jamie Oliver, for modern and healthier takes on classic British dishes. At the top of my baking list is a British staple, the Cornish pasty, which is similar in flavor to the American pot pie, except a dish is not required.
Pasties are often served as a main dish, but I opted to make them as the perfect appetizer, so I cut the pastry smaller to make a perfect hand-held starter. You could experiment with other meat and vegetables depending on what is season. While the traditional Cornish pasty is a flaky half-circle of crust stuffed with beef, potatoes, yellow turnips, and onion, this recipe is a lighter with chicken, butternut squash, and carrots.
Can't visit the British Isles? Don't worry. Just bring them to you with this easy and comforting recipe.
Ingredients
For the pastry:
1/2 cup (2 sticks), plus 2 tablespoon butter
1 1/3 cups hot water
3 3/4 cups, plus 2 tablespoons flour, plus extra for dusting
1 tablespoon sea salt
1 large egg, preferably free-range or organic, beaten
A handful of medium ground cornmeal or polenta
For the filling:
1 red onion, peeled and finely chopped
Olive oil
4 skinless, boneless chicken thighs, preferably free-range or organic, cut into 1/2-inch cubes
1/2 a small butternut squash (approx 1 heaping cup), peeled and cut into 1/4-inch chunks
2 carrots, peeled and cut into 1/4-inch chunks
1 medium potato, peeled and cut into 1/4-inch chunks
6 sprigs fresh sage or thyme, leaves picked and chopped
Nutmeg
Sea salt and freshly ground black pepper
1 1/3 cups chicken stock, preferably organic
2 tablespoons Worcestershire sauce
1 tablespoon plain flour
Directions
Preheat the oven to 350°F. Bring the butter and water to a boil in a large pan, then take the pan off the heat. Stir the flour and salt into the mixture bit by bit with a spatula, until you've got a dough. Tip it on to a floured surface and use your hands to shape it into a smooth ball. Put the ball of dough into a floured bowl, dust the top with flour, then cover with saran wrap and chill in the fridge for about 30 minutes while you make the filling.
Meanwhile, get a large pan and fry the chopped onion in a lug of olive oil for 10 minutes or until softened.
Add the diced chicken and fry for 5 minutes until brown, then add the rest of the chopped vegetables and herbs. Fry for another 5 minutes, then add 3 or 4 good gratings of nutmeg.
Season well with salt and pepper, then pour in the chicken stock and Worcestershire sauce. Stir in the flour and simmer on a medium heat for 15 to 20 minutes, until most of the stock has cooked away and you're left with nice thick gravy.
Dust a clean surface and a rolling pin with flour, then divide the pastry dough in half and roll each half out until it's slightly thinner than 1/4 inch. Use a cereal bowl or cookie cutter (about 3-4 inch in diameter) to cut 4 circles out of each half, so you end up with 12 circles. You may need to cut out 2 or 3 circles from each half first, then re-roll the remaining pastry to make the rest.
Dust the circles with flour, and spoon the filling into the middle of each one. Brush the edges of the pastry with some of the beaten egg, then fold each circle in half over the filling and crimp the edges with your finger and thumb to seal them.
Line 2 baking trays with greaseproof paper, scatter a handful of cornmeal or polenta over the paper, and place the pasties on top. Brush the pasties all over with more of the beaten egg and sprinkle over a little more cornmeal. Bake in the hot oven for 30 to 35 minutes, or until golden. Serve immediately as an appetizer or couple with a fresh green salad for dinner.
Serves 8-10.
Information
Category

Poultry, Appetizers

Cuisine

English/Scottish/Irish