There's something I need to get off my chest: I use canned crabmeat when making crab dip. If I'm going to dilute the flavor of the crab with cheese, herbs, and mayonnaise, why not use the canned variation?
My favorite canned crab is the kind they sell in the refrigerator section of Costco. It's fresh and full of meaty chunks of crab perfect for crab dip. Although I love a hot, bubbling crab dip, when tailgating, it's easier to serve cold crab dip.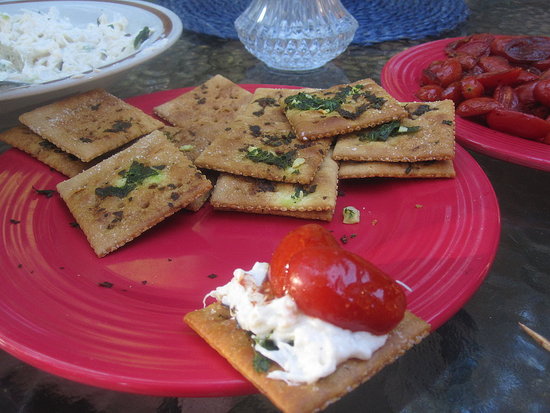 This recipe from Tyler Florence pairs the chilled crab dip with herbed saltines and roasted tomatoes. Having tried these elements, let me tell you a secret: they're unnecessary! The dip is simply sublime on its own.
No fussy saltines or cherry tomatoes necessary. Seriously, my guests agreed, the creamy, tangy dip is so scrumptious by itself, you'll want to eat it with a spoon. Get the easy preparation method, after the break.
Crab Dip With Garlic Saltines and Roasted Cherry Tomatoes
From Tyler Florence
Ingredients
For the crab dip:
1 cup cream cheese
1/2 cup mayonnaise
1 tablespoon Dijon mustard
1/2 tablespoon lemon juice
About 1 tablespoon extra-virgin olive oil, optional
Kosher salt and freshly ground black pepper
2 tablespoons chopped chives
1 1/2 cups (about 12 ounces) fresh lump crabmeat, drained and picked over
For the crackers:
2 cloves garlic, minced
1/4 bunch fresh flat-leaf parsley, chopped
1/2 stick butter, melted
30 saltine crackers (1 packet)
1 pint cherry tomatoes
2 tablespoons balsamic vinegar
Extra-virgin olive oil, optional
Kosher salt and freshly ground black pepper
Directions
For the crab dip: Preheat oven to 350 degrees F. In a food processor add the cream cheese, mayonnaise, and Dijon and blend until smooth. Then add the lemon juice and olive oil, if desired, and season with salt and freshly ground black pepper. Process until well combined, scraping down the sides with a rubber spatula as you go.
Dump the mixture into a large mixing bowl and fold in the chopped chives and crabmeat. Adjust seasoning with salt and pepper then cover and set aside in the refrigerator.
For the crackers: Meanwhile, prepare the saltines. Make a garlic butter by combining the minced garlic with parsley and melted butter. Lay out a flat layer of saltines on a lined baking tray and use a pastry brush to baste the saltines with garlic butter. Bake in the oven for about 5 to 7 minutes until golden.
For the tomatoes: Split each tomato lengthwise and toss in a mixing bowl with balsamic vinegar. Toss the cherry tomatoes on a second baking tray and drizzle a little olive oil, if desired, over the top. Season with salt and pepper and bake in oven for 7 to 8 minutes.
To serve, arrange the 3 components so they can be assembled by each individual. Spoon the crab mixture into a bowl, stack the saltines in a pile next to it and serve the roasted tomatoes in a coffee cup. Take a saltine, spoon a little crab dip on top and garnish with a piece of tomato.
Serves 4.
Information
Category

Dips, Appetizers

Cuisine

North American