Crab Toast Recipe
Celebrate Crab Season With Easy, Delicious Crab Toasts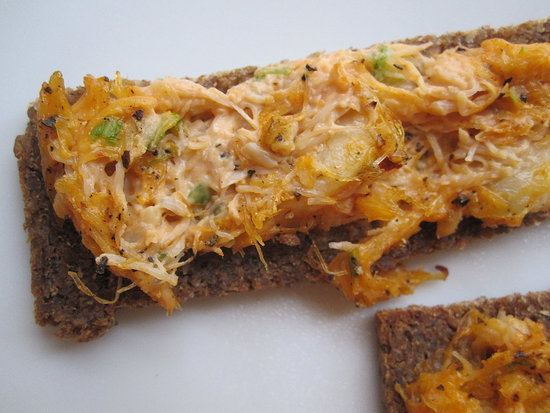 Ah, November! It's full of so many things to celebrate: the release of Beaujolais Nouveau, Thanksgiving, and Dungeness crab season! Today is the first official day of San Francisco's annual crab season, and it's supposed to be a great year for crab. Although there's nothing like fresh cracked crab dipped in a delicious sauce, one of my favorite preparations is crab toast. This addictive appetizer is a great way to serve a little crab to a large crowd. It's the perfect start to any holiday celebration. The mixture is quick and simple to make, and just before serving all you have to do is broil until warm. Offer with a glass of bubbly and your guests will be in heaven. Check out the recipe here.
Ingredients
4 ounces cream cheese, softened
1/3 cup grated onion
2 tablespoons ketchup
2 tablespoons mayonnaise
2 tablespoons finely diced celery
1/2 pound crabmeat, coarsely chopped
Tabasco sauce
Salt and freshly ground pepper
1 package (1 pound) sliced seeded cocktail rye, lightly toasted
Directions
Preheat the broiler. In a large bowl, combine the cream cheese with the onion, ketchup, mayonnaise and celery. Fold in the crabmeat and season with Tabasco, salt and pepper.
Spread a heaping teaspoon of the crab mixture on each toast to cover the surface. Broil in 2 batches for about 2 minutes, or until evenly browned. Serve hot.
Makes 45 toasts.
Information
Category

Seafood, Appetizers

Cuisine

North American