Cranberry Martini
Happy Hour: Vermouth-Infused Cranberry Martini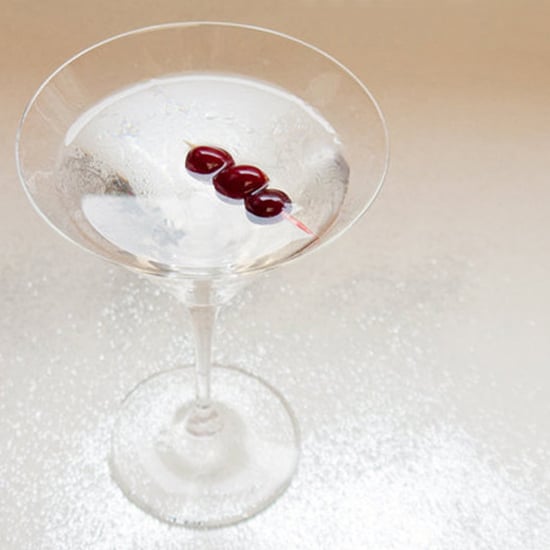 If you're stuck yet again this holiday season with a surplus of cranberries, then consider infusing any leftover fresh berries you have in vermouth to create the makings of a spirited martini.
This sophisticated cocktail, which is perfect for any party, has just a touch of sweetness and tang from fresh cranberries without overpowering the flavor of a true martini. All that's needed is a bit of prep work, and you'll be ready for shaking up — or stirring — some festive holiday martinis.
Keep reading to learn how to make a vermouth-infused cranberry martini.
Vermouth-Infused Cranberry Martini
From Sarah Lipoff, YumSugar
Notes
This recipe makes enough cranberry-infused vermouth for 16 cocktails.
Ingredients
For cranberry-infused vermouth:
1 cup dry vermouth
1 cup fresh cranberries
For cranberry martini:
2-1/2 ounces gin
1/2 ounce cranberry-infused vermouth
4 vermouth-infused cranberries, one halved, for garnish
Directions
Make cranberry-infused vermouth: Fill a small glass jar with cranberries while bringing the vermouth to a simmer.
Carefully pour the hot vermouth over the cranberries, filling the jar. (Cranberries may pop as they begin to warm through.) Seal jar.
Place the cranberries in the refrigerator, and allow to infuse overnight.
Make martini: Pour gin and the cranberry-infused vermouth into a shaker filled with ice, and shake, or stir, until chilled through.
Thread three cranberries on a toothpick and place in a chilled martini glass. Slice one cranberry in half and use the cut side to rim the glass.
Strain into the martini glass and enjoy.
Makes 1 martini.
Information
Category

Drinks, Cocktails

Cuisine

North American