Cream of Mushroom Soup Recipe
Soup's On: Cream of Mushroom Soup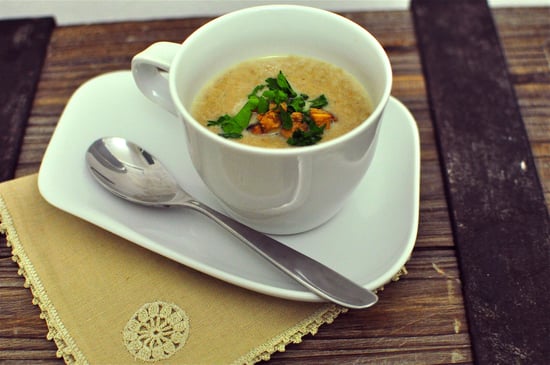 During the holidays, it's always fun to have elaborate dinners with multiple courses to celebrate the season and spend even more time around the table with your loved ones. Tease everyone's palate before the big meal with one of my family's traditions: cream of mushroom soup. You can make this recipe pretty inexpensively by sticking to button mushrooms, but if you're in the mood to go all out, pick up different varieties. I opted to use mostly button mushrooms but also added chanterelles for more complexity.
The holiday meals can always be stressful getting everything ready, but this soup can be made a couple days in advance and easily reheated on the stove just before serving. If you decide to bring the soup to the table, be sure to heat up your soup terrine in hot water to keep the soup piping hot. Keep the garnish really simple with a little parsley, chives, a slice or two of sautéed mushrooms, and a drizzle of truffle oil.
Don't skip the soup course this holiday season and keep reading for the recipe.
Notes
This recipe was originally just a mushroom soup, but for a little more texture and richness, I added cream and extra garnish.
Ingredients
6 tablespoons butter
1 small onion, thinly sliced
8 ounces button mushrooms
5 ounces chanterelle mushrooms
1 quart vegetable or chicken stock
1 bunch parsley
Salt and pepper
1/4 cup cream
2 ounces high-quality sherry (don't use the cheap grocery-store variety; it's salty and unappetizing and will ruin your soup) or quality Cognac
Sherry vinegar, to taste, optional
1 bunch of chives, finely chopped
2 tablespoons black truffle oil, optional
Directions
In a medium saucepan, melt 2 tablespoons of the butter over medium heat and add the onion and a pinch of salt. Cook until the onion is soft and translucent, stirring occasionally, then add all of the mushrooms and the remaining butter.
Cook until the mushrooms have browned, stirring occasionally. If desired, set aside about 2 tablespoons of the mushrooms for garnish. Stir in the stock and about 3/4 of the parsley and bring to a boil. Since the parsley will be removed before blending, either bundle it in cheese cloth or tie it up with kitchen twine. Immediately reduce the heat and simmer for about an hour.
Meanwhile, mince the remaining parsley.
After an hour, remove the parsley and discard. Let the soup cool for a few minutes, then carefully transfer to the blender and blend until smooth.
When blended, return to the pot, add cream and bring up to a low simmer again. Add the sherry or cognac, mix well. If the soup is too thick, thin with water until its the desired consistency. Season to taste with salt, pepper, and sherry vinegar.
Serve the soup topped with the mushroom you have set aside, chives and minced parsley. If desired, drizzle with a few drops of truffle oil just before serving.
Information
Category

Soups/Stews, Cream

Cuisine

North American

Yield

Serves 4-6