Creamed Collard Greens Recipe
Southern Side: Creamed Collard Greens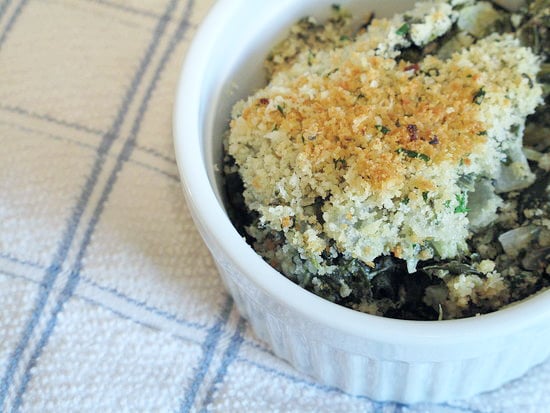 I'm a little sick of the traditional Thanksgiving meal. That's why this year I plan on serving slightly different versions of old favorites — like a turkey roulade instead of a whole roasted turkey, for instance.
Rather than the usual green bean casserole, I'm reaching for a neo-Southern riff on the creamed spinach standby, and plan on impressing guests with creamed collard greens. Unlike creamed spinach, this vegetable side isn't swimming in heavy cream; the cream adds subtle body, while smoky bacon rounds out the collards' bitter character.
But the pièce de résistance is really the crispy, cheesy crumb topping. Be sure to make a generous amount, because the more, the better. Add a new tradition to your meal when you keep reading.
Creamed Collard Greens With Parmesan Breadcrumbs
From Food & Wine
Ingredients
2 cups water
4 ounces smoky bacon, sliced crosswise into 1/4-inch strips
8 pounds collard greens, stems and tough inner ribs discarded*
2 large onions, chopped
3/4 cup coarse dry breadcrumbs (I used a mix of regular and panko)
1/4 cup plus 2 tablespoons freshly grated Parmesan cheese
1 tablespoon minced parsley
1 teaspoon minced sage
1 garlic clove, minced
1 tablespoon extra-virgin olive oil
2 cups heavy cream
Salt and freshly ground pepper
3 large eggs, lightly beaten
Directions
In a large stockpot, add the water and bacon and bring to a boil. Add the collard greens by handfuls, stirring until each batch is wilted before adding more. Bring to a boil and add the onions. Cover and simmer over moderate heat until the collards are very tender, about 40 minutes. Remove from the heat and let cool, then squeeze the collards almost dry and coarsely chop them.
Meanwhile, in a food processor, combine the dry breadcrumbs with the Parmesan cheese, minced parsley, sage, garlic and extra-virgin olive oil. Pulse until just blended.
Preheat the oven to 350°. Generously butter a shallow 4-quart casserole. In a large bowl, mix the collards with the cream and season with salt and pepper. Stir in the eggs until blended and spread the collards in the prepared casserole. Cover with foil and bake for 30 minutes.
Sprinkle the Parmesan crumbs over the collards and bake for about 20 minutes longer, or until the crumb topping is golden. Preheat the broiler and broil the collards 10 inches from the heat until the bread crumb topping is golden brown and crisp. Serve hot.
Serves 12.
Notes: I used bagged, chopped collard greens, and skipped the chopping step. This recipe can be prepared through Step 3 and refrigerated overnight. Bring to room temperature before proceeding.
Information
Category

Vegetables, Side Dishes

Cuisine

North American